Maple "Sausage" Vegetable Skillet
A vegetable skillet meal: nutritious comfort food
This vegetable skillet recipe is pure comfort food during the colder months. It has a satisfying blend of vegetarian sausage and hearty vegetables, all flavored with pure maple syrup. It cooks up in a flash, especially if you use my time saving tips, making it an ideal weeknight meal.
1. Vegetarian sausage
Until recently, I thought it was tricky to find good gluten free vegetarian meat alternatives. Happily, Beyond Meat products are now widely available, including Beyond Sausage. 
I honestly love these products. They're delicious, gluten free, soy free, vegan, and packed with protein.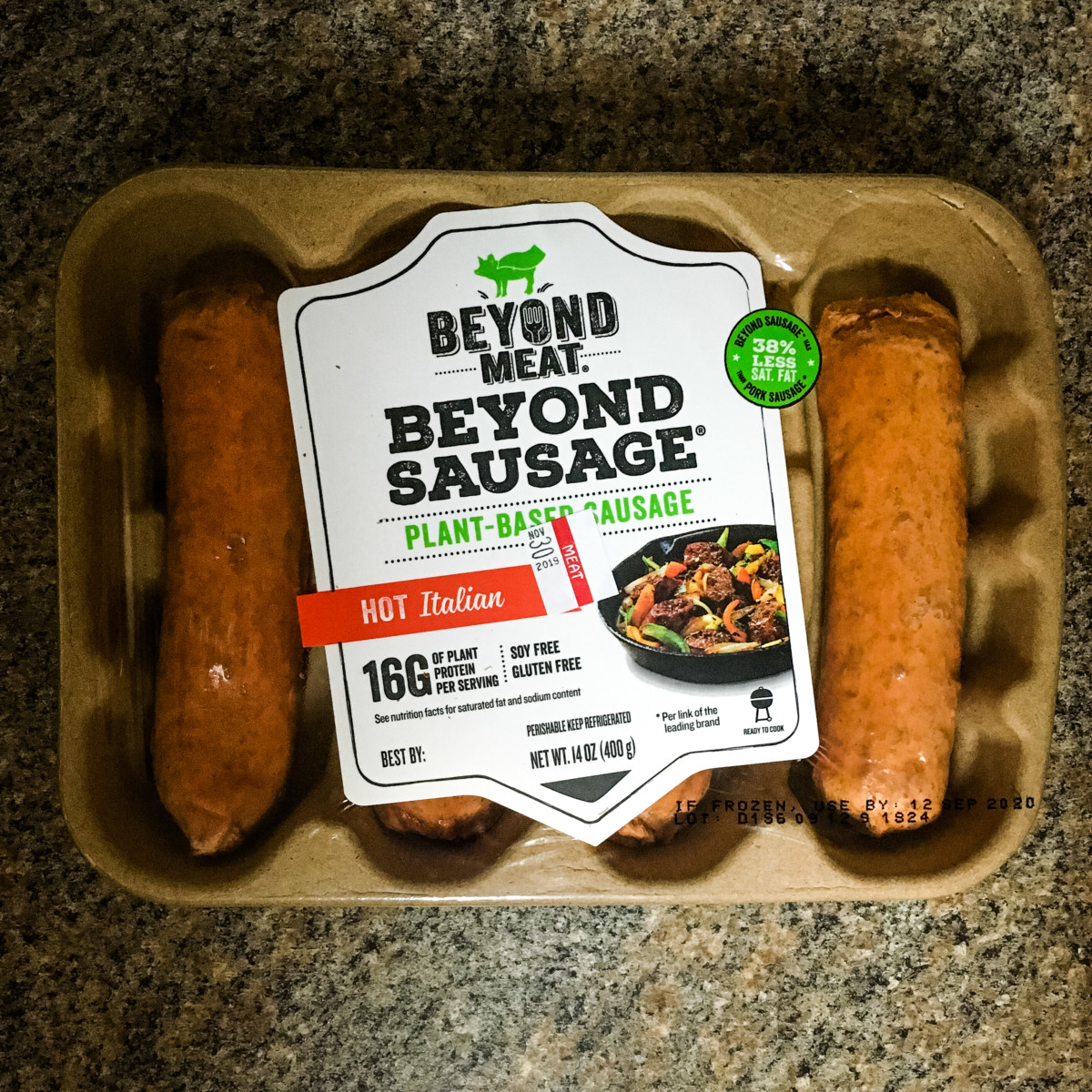 In addition to their sausage, I also like the following:
For this recipe I used the Hot Italian Beyond Sausage, but the Brat Original Beyond Sausage would work just as well. If you know of another brand of tasty gluten free, vegetarian sausage, please let me know! I would be very interested to hear about it.
2. Pure maple syrup
One of the secrets to success in this recipe is ensuring that you use 100% pure maple syrup! Only the real deal will give you that distinctive flavor, and it's much healthier for you than syrup alternatives, too. We make our own maple syrup from our trees here in Vermont, so we have the opportunity to cook with it regularly.
For other recipes using maple syrup, try these:
3. Assortment of fresh vegetables
Selecting your vegetables may be the easiest part of this recipe. You can simply choose whatever you like best, or whatever you have on hand. I used green beans, mushrooms, celery, and sweet potato, all of which are hearty and combined well with the veggie sausage and maple.
Other great options would be snap peas, carrots, broccoli, onions, or turnips. 
Keep in mind that different vegetables will cook for different lengths of time. Here are some general guidelines:
Cook harder vegetables like cauliflower and broccoli for at least 10 minutes. 

Cook vegetables like green beans, celery, and carrots for about 6 minutes, like in this recipe. 

Cook softer vegetables like spinach and zucchini for just a couple of minutes.


Time saving tips for your vegetable skillet meal
Given my family's full schedule, I'm a big fan of quick weeknight meals. I've incorporated a couple of shortcuts in this recipe method which are optional, but will save significant time and effort if you choose to use them.
The first shortcut is to cook the sweet potato in the microwave rather than the oven. I was skeptical the first time I heard of this, but it truly does work and still results in the soft texture that's so desirable in sweet potatoes. And even better, your microwave will reduce the cooking time from 45 – 50 minutes down to just 5 minutes.
The second shortcut is to use ready made rice. My favorite is Uncle Ben's Whole Grain Brown Ready Rice, which gives you two perfectly plump, moist servings of rice in 90 seconds. I'm such a fan that I use this rice for a number of other dishes, such as Pineapple and Sweet Corn Stir Fry and Coconut Curry Shrimp.
Preparing the vegetable skillet meal
Once you've chosen your ingredients, preparing this meal is quite simple. Heat olive oil in the skillet until fragrant. Then add vegetables for the appropriate length of time needed, and cook the veggie sausage for 6 minutes. 
Meanwhile, wash and peel the sweet potato, pierce it with a fork several times, and microwave it for 5 minutes. Chop it into 1" pieces. 
Add 3 Tbsp maple syrup and the sweet potato to the skillet. Stir until combined. Serve over rice and enjoy your delicious vegetable skillet dinner!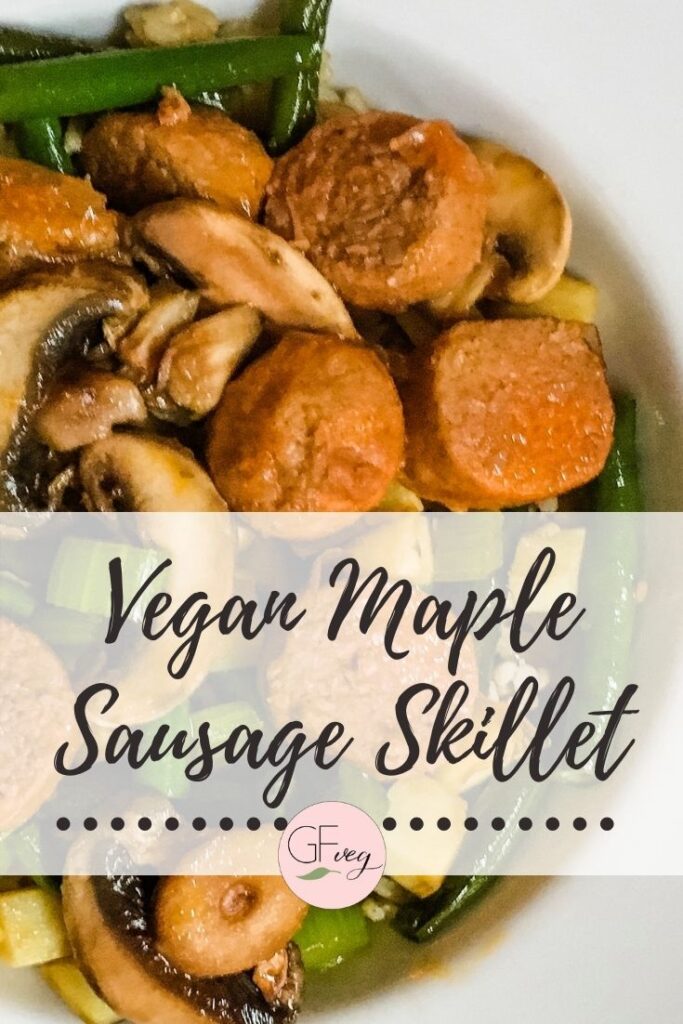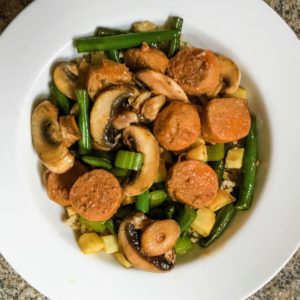 Maple Veggie "Sausage" Skillet
Ingredients
1

tbsp

olive oil

1

package

Beyond Sausage Hot Italian

cut into 1" thick slices

1

cup

green beans

chopped into 1" pieces

1

cup

mushrooms

slices

1

stalk

celery

coarsely chopped

3

tbsp

pure maple syrup

1/2

sweet potato

1

package

Uncle Ben's Whole Grain Brown Ready Rice

or 1 cup prepared brown rice
Instructions
Heat oil in large skillet over medium heat until fragrant.

Add Beyond Sausage, green beans, mushrooms, and celery to skillet. Cook for six minutes, stirring regularly.

Meanwhile, wash and peel sweet potato. Pierce it several times with a fork and microwave it for 5 minutes. Chop into 1" pieces.

Add sweet potato and maple syrup to skillet and toss.

Prepare rice according to package directions. Divide evenly and top with vegetable mixture.

Enjoy!