Maple Pumpkin Overnight Oats
Cozy for Fall (or Anytime!): Maple Pumpkin Overnight Oats
Every time fall comes around, I'm ready for pumpkin everything! There are many reasons to love this recipe for maple pumpkin overnight oats. It has the pumpkin flavor I love, it's extremely easy to make, it's healthy, and the result is creamy and delicious. This recipe is courtesy of my personal fitness coach, Rachael Bodie. 
Choosing your ingredients for maple pumpkin overnight oats
Oats
You can use either quick oats or traditional oats for this recipe. Either way, if you have a gluten allergy or sensitivity, be sure that your oats are labeled as gluten free. While pure oats are naturally gluten free, conventional oats are often processed in the same facility as wheat, barley, and rye. Therefore, the oats can get contaminated.
Two brands my family and I like that offer gluten free oats are Quaker and Bob's Red Mill. We've found that both brands are readily available in grocery stores in our area, or you can order on Amazon, particularly if you'd like to order in bulk.
Maple syrup
We use our own maple syrup that we tap from trees on our property in Vermont. That's our homemade maple syrup in the mason jar in that photo of ingredients! Be sure to use pure maple syrup in your recipe too – not only because you just can't beat the quality and flavor, but also because it's much healthier for you than any syrup replacement product out there. 
For other recipes you can make with your pure maple syrup, try the maple slow cooker oatmeal (this one feeds a crowd!) and the maple glazed almonds (a delicious on-the-go snack). 
Pureed pumpkin
Oh, how I love pumpkin flavor in the autumn! Pumpkin is good for us, too. It's particularly rich in vitamin A, and it also includes vitamins C, B2, and E, as well as potassium, copper, and manganese. It's also relatively low in calories and very high in antioxidants such as beta-carotene.
When selecting your pumpkin, be sure to choose pureed canned pumpkin and not pumpkin pie filling to keep this breakfast healthy. Otherwise your oats will end up with more sweetness (and calories!) than you bargained for. Organic canned pumpkin is usually as available as conventional and gives you the added benefits that come with organic produce.
Chia seeds
Adding chia seeds to these oats boosts the dish's nutritional value. Chia seeds are high in fiber, antioxidants, and protein, and they're good for heart health. Importantly, chia seeds are gentler on the stomach when they're soaked before ingesting. In this recipe, you'll soak them overnight with the other ingredients, which is optimal for obtaining the benefits of chia seeds while helping avoid any stomach discomfort.
Making your pumpkin overnight oats
Other than the wonderful pumpkin flavor, possibly the best part about this recipe is how easy the preparation is. Simply combine all the ingredients in a large bowl and mix well. Cover the bowl and pop it in the fridge overnight.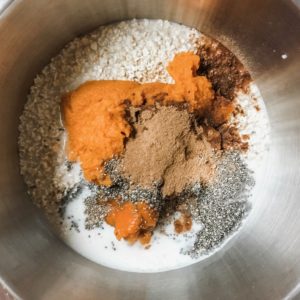 In the morning, you'll have a delicious, nutritious breakfast all ready for you. These oats taste equally good either cold or warm. You can quickly heat one serving in the microwave for a minute prior to serving. Top with chopped pecans and enjoy.
Maple pumpkin overnight oats
Ingredients
2

cups

gluten free oats

quick or traditional

2

cups

unsweetened vanilla almond milk

2

cups

pureed pumpkin

2

Tbsp

chia seeds

½

cup

maple syrup

1

Tbsp

pumpkin pie spice

½

cup

chopped pecans
Instructions
In a large bowl, combine all ingredients except the pecans. Stir, cover, and store in the fridge overnight.

Divide into equal portions. Enjoy cold, or heat in the microwave for one minute.

Top with chopped pecans.

Enjoy!
Notes
Recipe courtesy of Rachael Bodie Fitness (rachaelbodie.blogspot.com).