Walt Disney Inspired Vegan Chili
The story behind Disney-inspired vegan chili
For as long as I can remember, Disney has been a source of creativity and joy in my family. It was a pleasant surprise when the latest Disney inspiration for us was a hearty, comforting vegan chili recipe!
We're big Disney fans in my family. Some of my happiest memories from childhood are taking road trips from our home in Albuquerque to Disneyland, watching the classic Disney movies, and reading Disney comic books with my Dad.
I continue the Disney tradition with my own family now, including our membership in the Disney Movie Club. When the Club sent out Walt Disney's own recipe for chili, I knew I'd have to make it when we visited Albuquerque this fall!
I made a few modifications to this meal. Walt's recipe had beef, while mine is vegan, using Beyond Beef Plant-Based Ground. 
Also, apparently Walt was a fan of spicy foods, as his recipe included 13 different spices, including a yellow Mexican chili pepper! My version is toned down quite a bit on the heat factor. I made a few further adjustments based on my family's personal preferences for ingredients. But as a whole, my recipe is true to the spirit of the dish.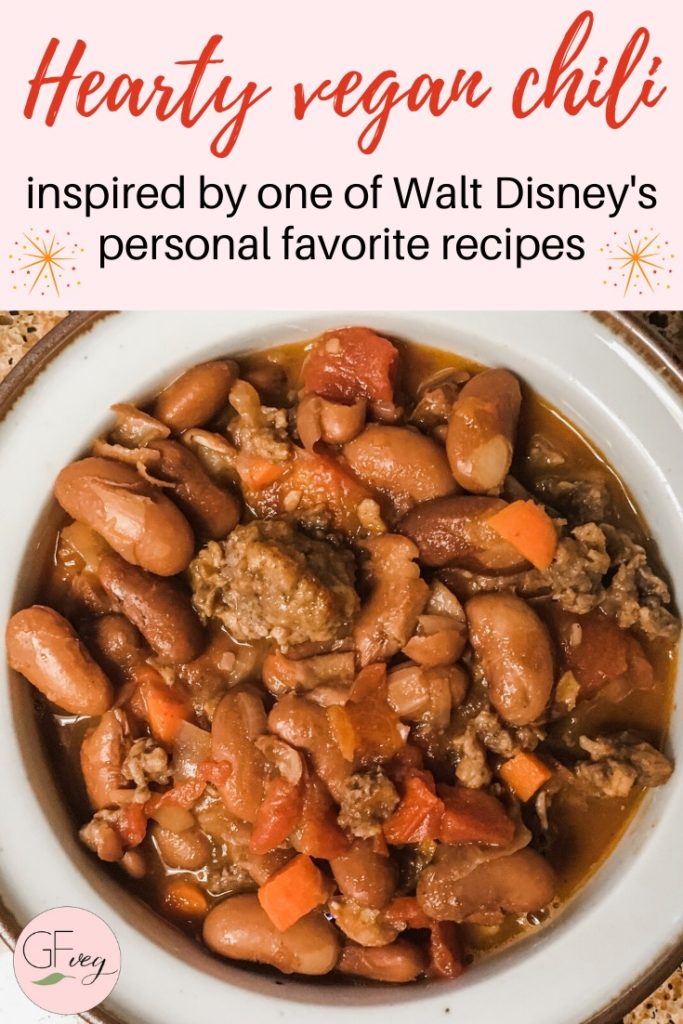 How to make vegan chili: step by step
This chili is simple to make, but it requires patience. Begin the process the night before, when you soak the beans.
Time saving tip: To cut down on preparation time, purchase canned cooked beans instead.
After the beans are soaked, this chili gets its wonderful flavor and texture through a series of steps where you simmer the ingredients to slow-cooked perfection.
First, simmer the onions with the soaked beans for 4 hours.
Since this was a longer step (and someone else was at home monitoring the stove), we ran out to enjoy some tea with friends. Nothing soothes the soul like good company, good conversation, and hot herbal tea.
Next, in a separate saucepan, create a sauce by combining diced tomatoes, garlic, and a wonderful blend of spices. As I mentioned, Walt Disney's original recipe used 13 spices! I cut back a bit and included dry mustard, cinnamon, and chili powder. You certainly could add more spices if you prefer an even bolder flavor. Simmer for 1 hour. Your house will smell amazing during this step!
Finally, combine the contents into a single (very large!) pot. Use a fork to crumble the Beyond Beef into the pot. Simmer the combined chili for a fine 30 minutes. Then enjoy!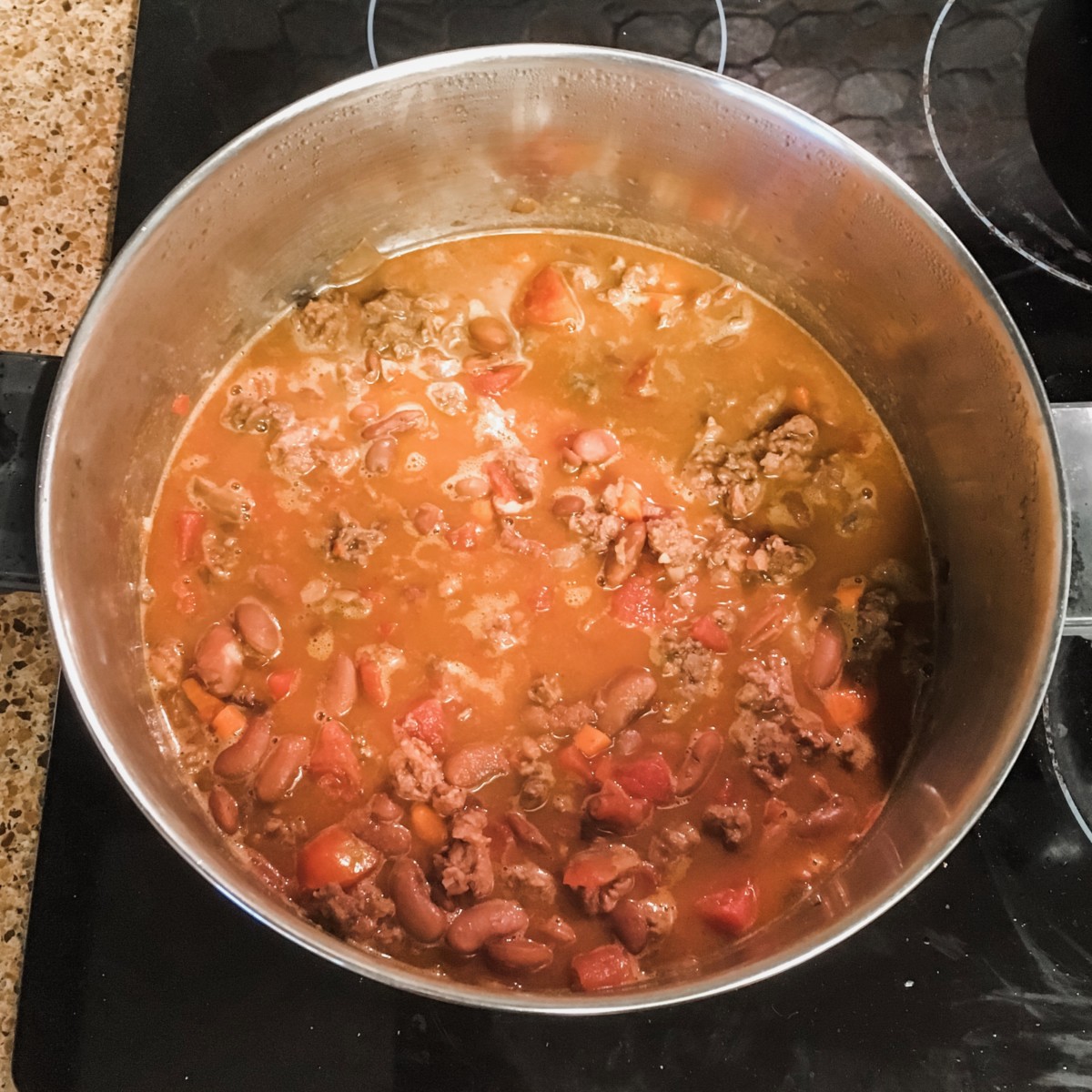 The delicious end result: hearty vegan chili
In the end, the hours of investment in this recipe were well worth it. My whole family was thrilled with the result. My Dad said that out of all the meals we had during our 9-day visit, this one was his favorite. Fortunately, there was plenty left over for us to put in his freezer so he could enjoy more after our trip was over.
The chili really did turn out delicious, and I hope you enjoy it as well. Maybe you can even have a nice bowl of chili while watching a Disney movie, in honor of the original chef!
More recipes with Beyond Meat products
I am a fan of Beyond Meat products and love using them for recipes. If you enjoy this chili and want to try cooking with other Beyond Meat products, here are a few recipes to try: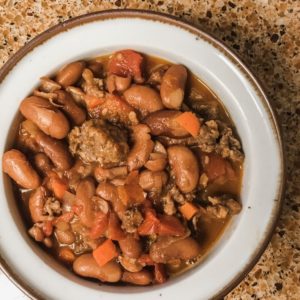 Walt Disney Inspired Chili
Ingredients
16

oz.

dry kidney beans

2

Tbsp

rose salt

or other salt

1

onion

diced

1

clove

garlic

2

Tbsp

olive oil

½

cup

carrots

chopped

½

tsp

dry mustard

½

tsp

cinnamon

¾

tsp

chili powder

28

oz

can diced tomatoes

1

package Beyond Beef Plant-Based Ground

or other vegetarian, gluten free meatless ground
Instructions
The night before you plan to eat your chili, put kidney beans in a bowl, cover with water by 2 inches, and add 1 Tbsp of salt. Let soak overnight.

Drain beans and put in a large pot. Add water to cover by 2 inches. Add onions and simmer for 4 hours.

In a separate saucepan, create a sauce by combining tomatoes, garlic, and spices. Simmer for 1 hour. (Beans and onions will continue to simmer separately.)

Use a fork to crumble the Beyond Beef into the large pot. Add the sauce to the large pot as well. Let the chili simmer for 30 minutes.

Enjoy!
Notes
Adapted from Walt Disney's own recipe for chili, published by Disney Movie Club.