Looking for a Gluten-Free Vegetarian Summer Meal Plan? In this blog post, we will provide you with a weekly meal plan that is both healthy and delicious. We have included recipes for breakfast, lunch, and dinner, as well as snacks. With this meal plan, you will be able to enjoy all of your favorite summer dishes while sticking to a gluten-free and vegetarian diet!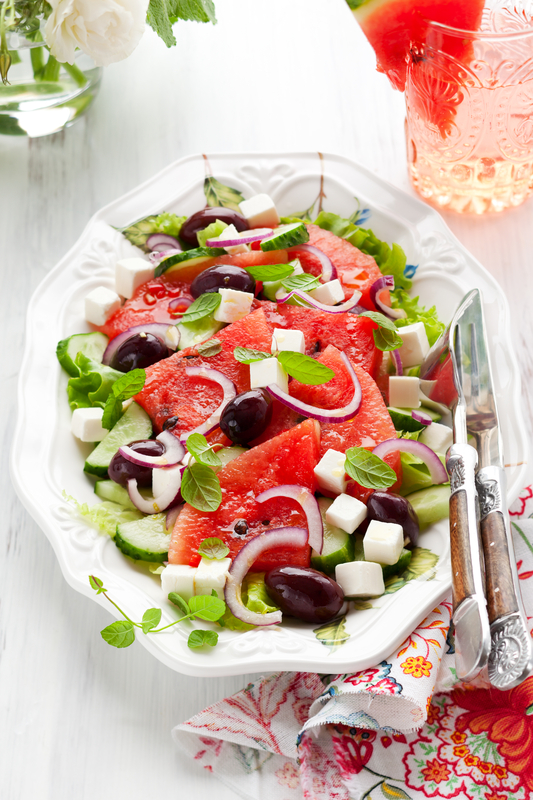 What does it mean to eat in season? Seasonal eating is all about consuming fruits and vegetables that are locally grown and in season. This means that they are at the peak of their flavor and nutrition. Not to mention, seasonal produce is typically more affordable than out-of-season options. For this gluten-free vegetarian summer meal plan, we will be using ingredients that are in season during the summer months.
⭐Summer Meal Plan Highlights
Healthy and filled with an array of nutrients
Delicious
Gluten free
Vegetarian
Suitable for summer months – or any time of year you want healthy, delicious food with plenty of fresh produce!
🍅Summer Produce In Season
If you are not able to find all of these ingredients locally, you can also check your local grocery store for seasonal produce. With this meal plan, you will be able to enjoy all of your favorite summer dishes while sticking to a gluten-free and vegetarian diet!
tomatoes
zucchini
eggplant
corn
berries
peaches
watermelon
fresh herbs
cucumbers
The meal plan and grocery list are designed for two people, but you can easily make adjustments for the number of people you need to cook for.
⏱️Saving Time While Meal Planning
As a working mom and wife, time savers are a big priority for me when I do my meal planning. I've incorporated one of my favorite techniques in this summer meal plan.
For many dishes, you'll cook two or three times the amount you need that day, then enjoy the same dish on subsequent days. This virtually eliminates prep or cooking time for later meals. You'll even enjoy one completely no-cook day on Monday. That should help you ease into the week's routine!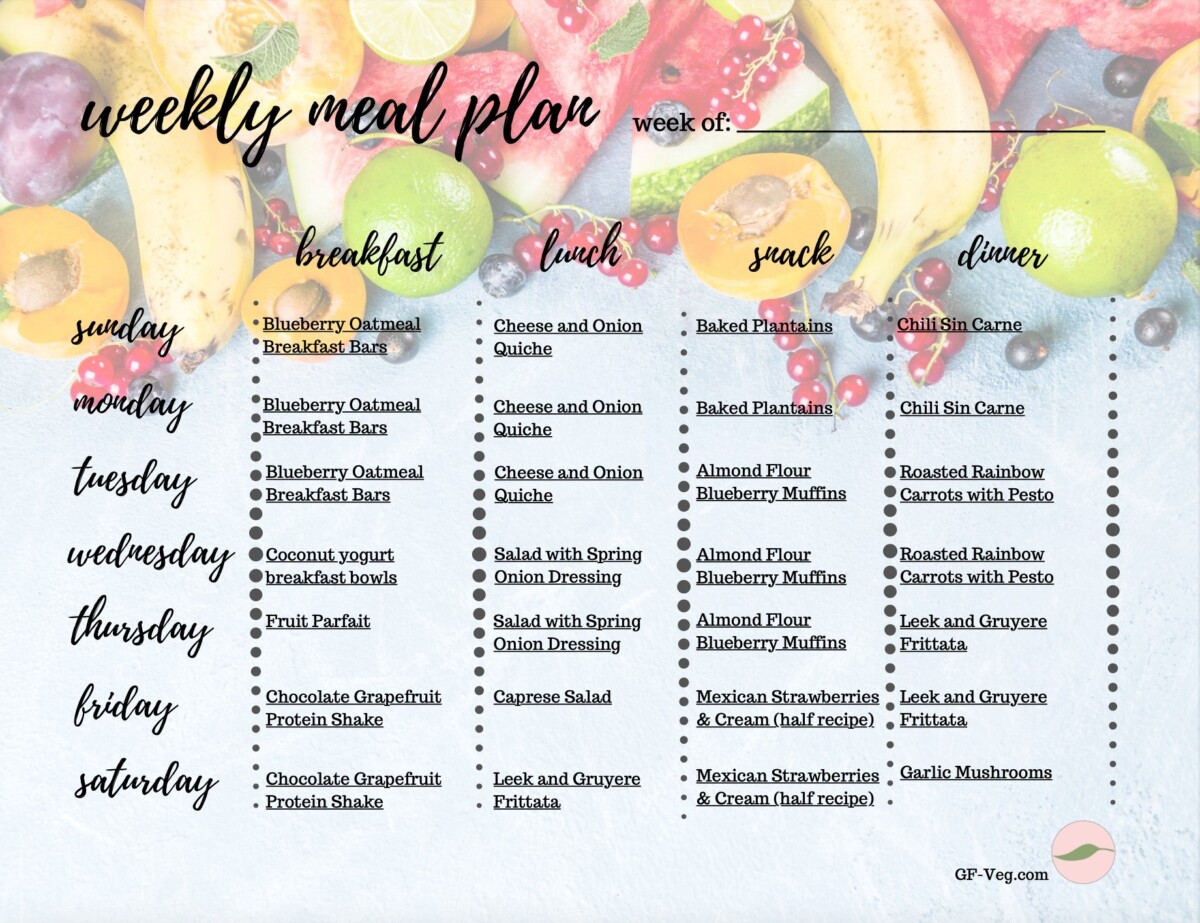 Also, below you'll find a complete list of each day's meals, with links to the recipes and some important prep notes.
Sunday Meal Plan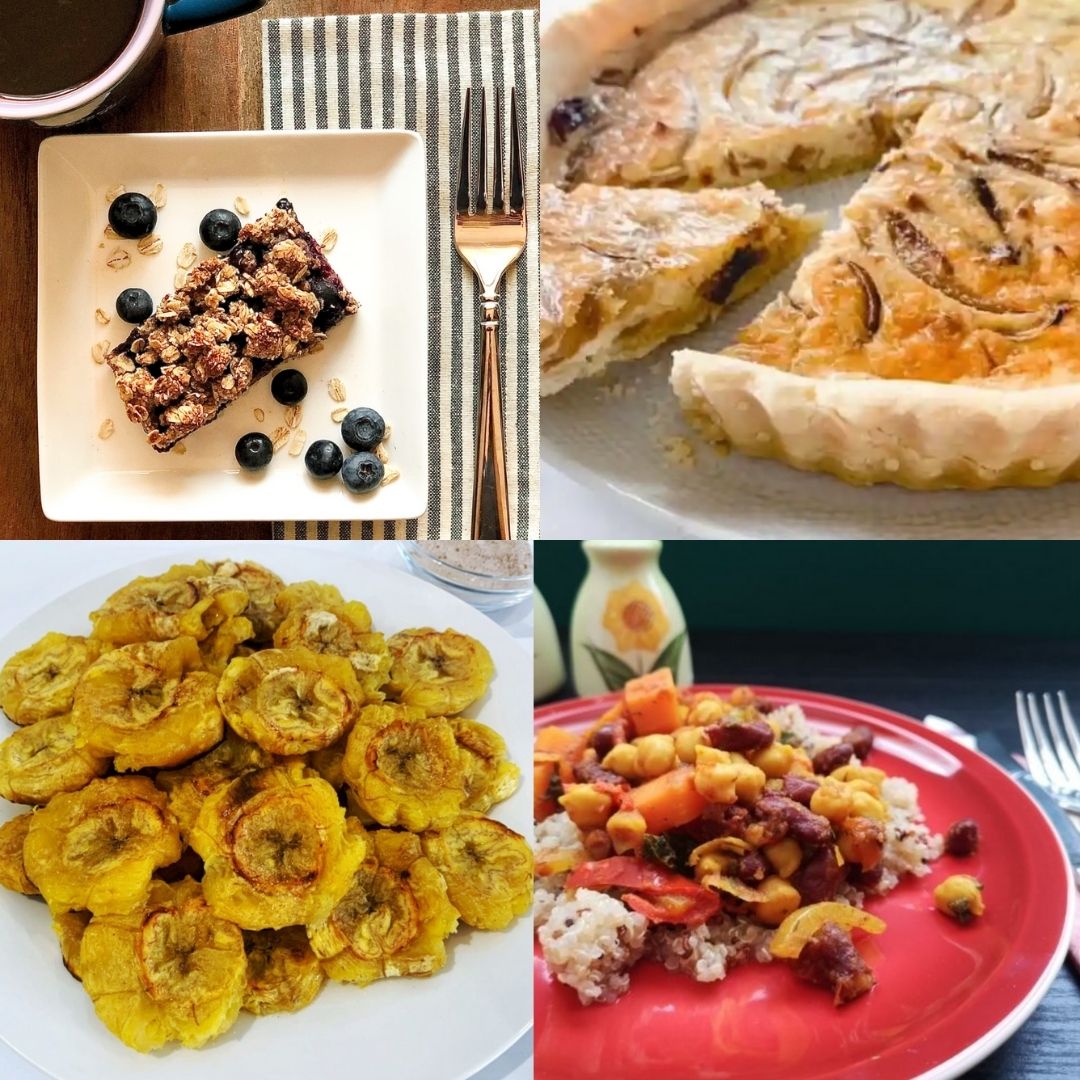 ____________
Monday Recipes – no cook day!
Breakfast: Healthy Blueberry Oatmeal Breakfast Bars (leftovers).
Lunch: Cheese and Onion Quiche paired with mixed greens (leftovers).
Snack: Easy Baked Plantains (leftovers).
Dinner: Chili Sin Carne (leftovers).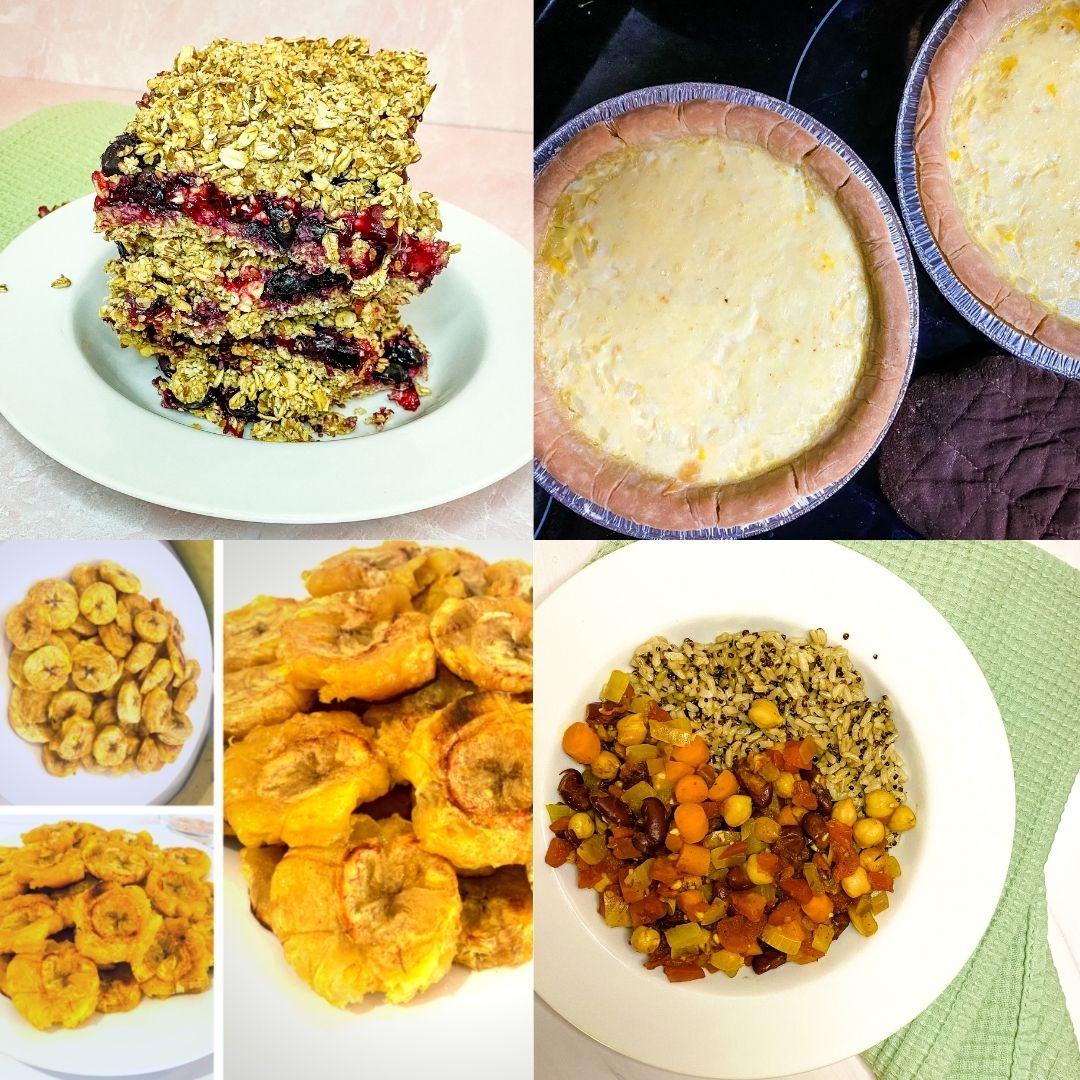 ___________
Tuesday recipes
____________
Wednesday recipes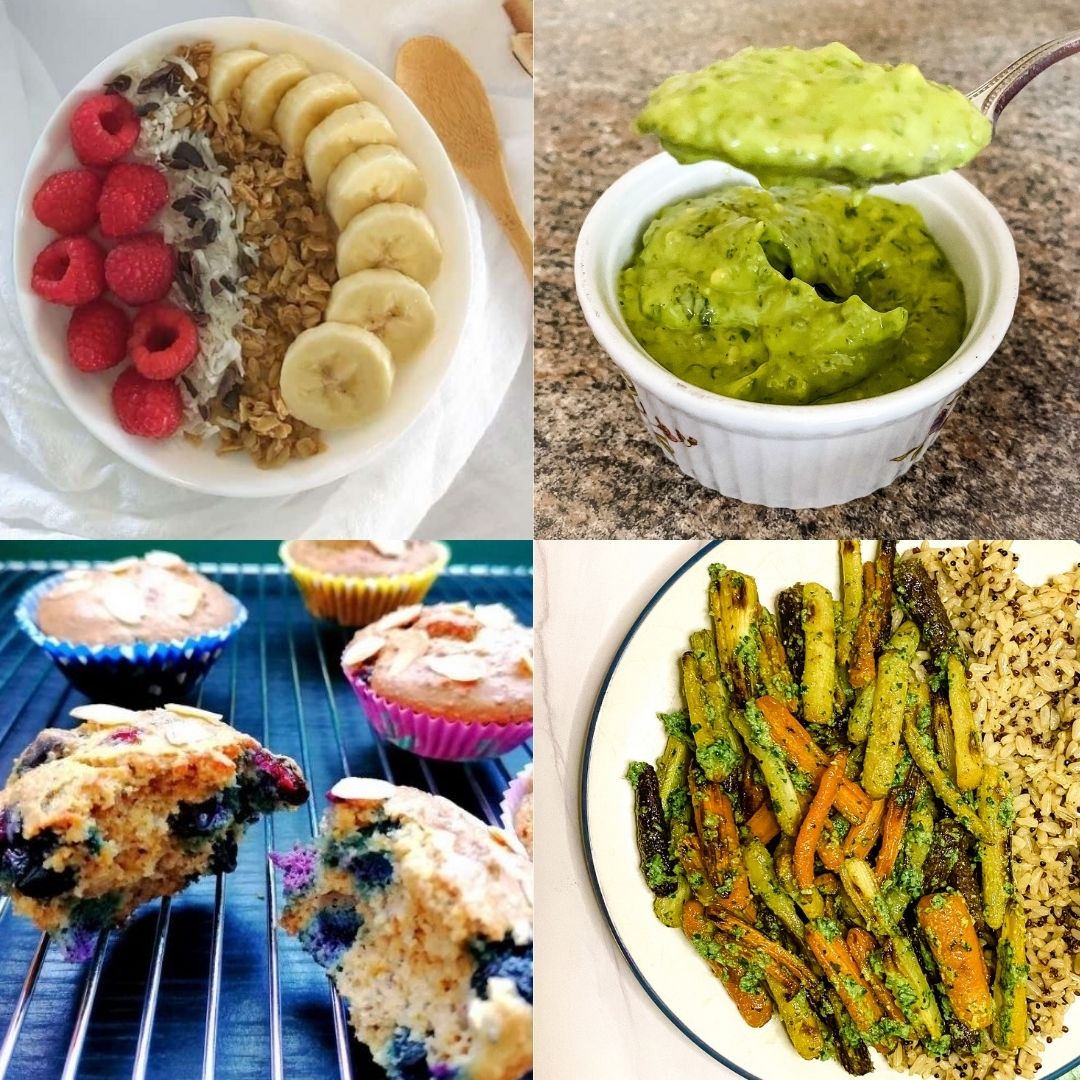 ____________
Thursday recipes
Breakfast:

Grain and Dairy Free Parfait

by Homesteading Recipes and Meal Planning (double the recipe).

Lunch: Salad with mixed greens, pumpkin seeds (pepitas), chickpeas, and Spring Onion and Avocado Salad Dressing (leftovers).
Snack: Almond Flour and Blueberry Muffins (leftovers). 
Dinner:

Leek and Gruyère Frittata

.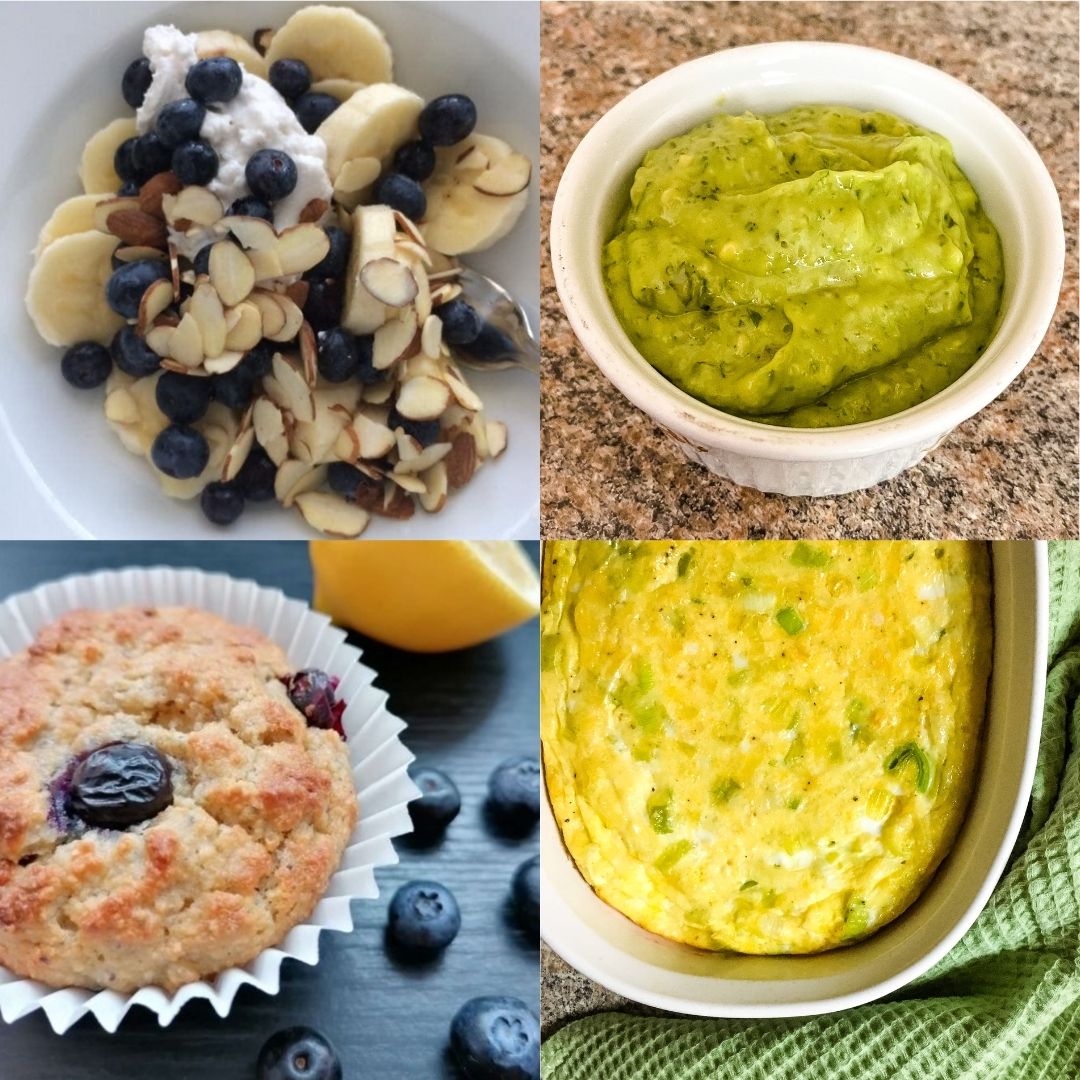 ____________
Friday recipes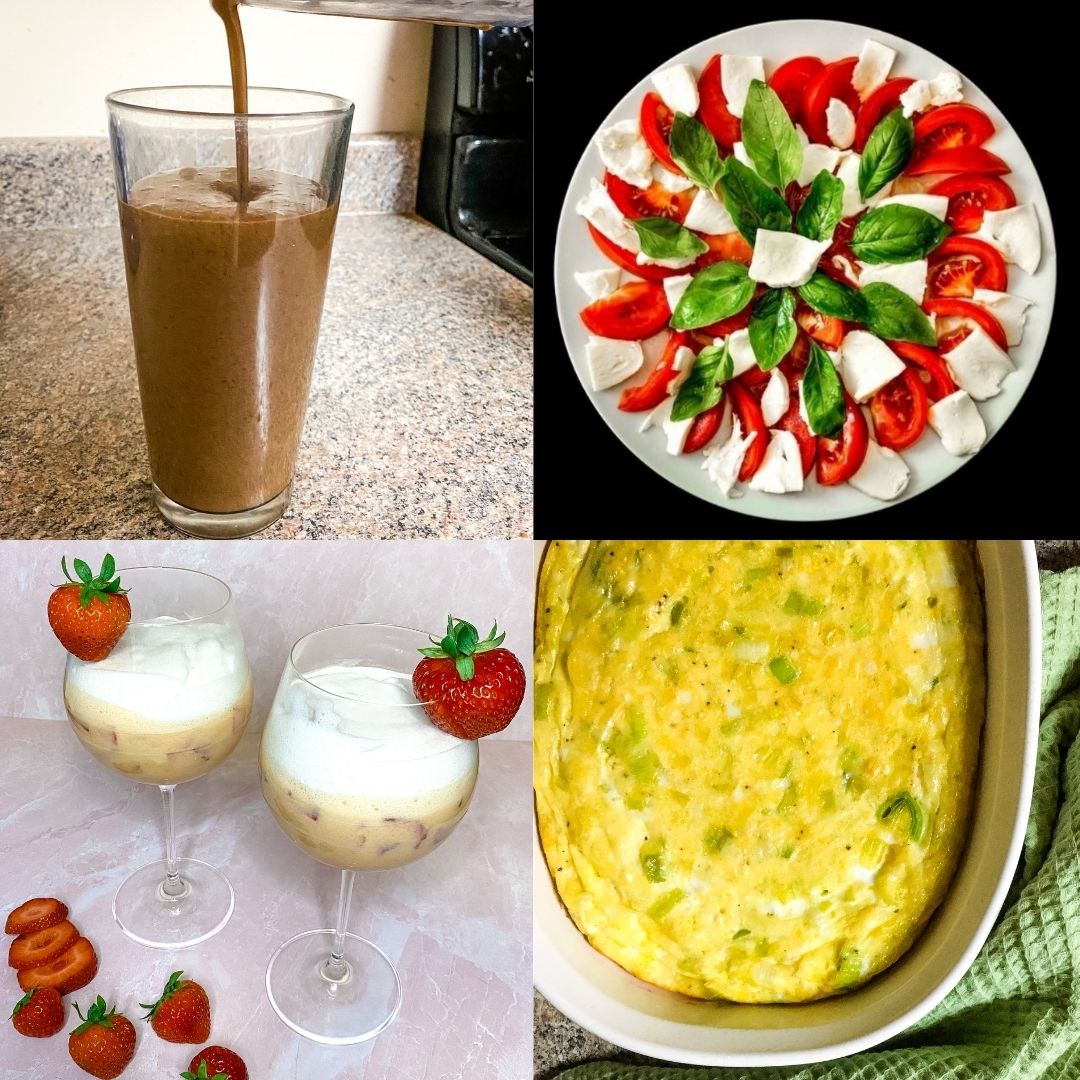 ____________
Saturday recipes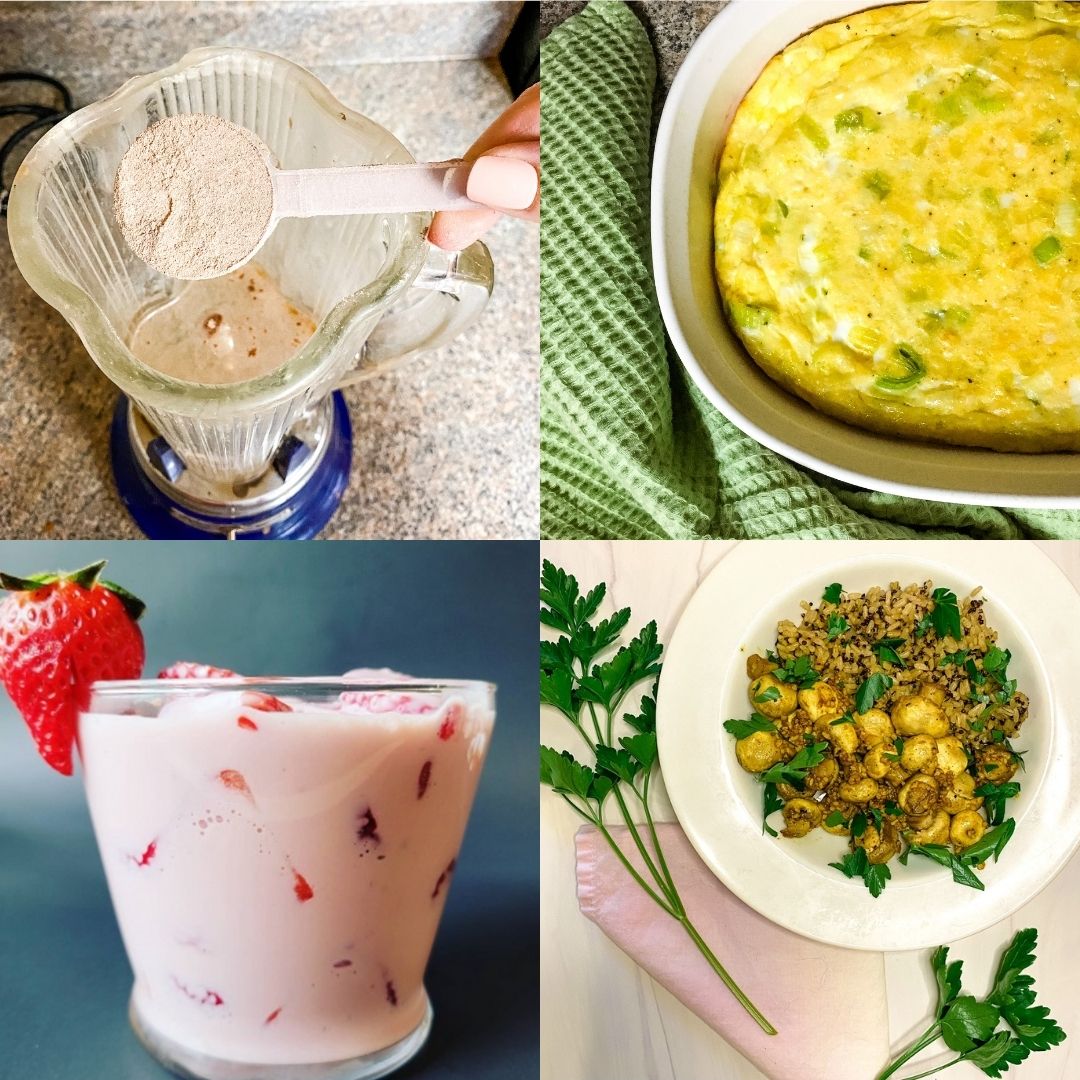 ____________
📖Healthy Meal Planning Resources
Ready for more done-for-you meal plans? Click below for more free 7-day meal plans. Each comes with its own editable grocery list.
Would you like to take on meal planning for yourself, but you're not quite sure where to start? Join the free 5-day mini e-course below! You'll receive an email each day packed with tips, guidance, and a fun challenge. There are some fun freebies along the way too. Hope to see you there!