Quinoa with Grape Tomatoes
Cooking with Quinoa: a Nutritious Kitchen Staple
Quinoa is an excellent source of protein and fiber, contains all eight essential amino acids, and has a number of vitamins and minerals. It's also naturally gluten free. Given all these benefits, it's a wonderful grain to incorporate into your diet regularly. 
Make it a Side Dish or a Main Course
This Quinoa with Grape Tomatoes dish is simple and easy to prepare. By itself, it makes a wonderful side dish or salad, or you can add protein to make it a main course. A few options for adding protein include the following:
Marinated tofu.

Nasoya makes some great ready-made, organic options, such as their

Tofubaked and Toss'ables lines

.

Lentils. Not only are lentils high in protein, but they also provide added benefits from fiber, folic acid, and potassium. Rinse your lentils and cook them using 1 cup of dry lentils to 3 cups of either water or organic, low sodium vegetable stock. Bring to a boil, cover, reduce heat, and simmer for about 15 to 20 minutes or until tender.
Vegetarian chick'n

.

Gardein

and

Dr. Praegers

both make gluten free vegetarian "chick'n" products.  
For another delicious meal using quinoa, try the Beyond Burger with Quinoa Salad and Hummus. It's one of my family's favorites.
Time-Saving Kitchen Tips for Quinoa with Grape Tomatoes

Tip #1: Use Ready-Made Quinoa
As a working mom, I love time saving techniques, so the quinoa I choose most often is Minute Ready to Serve White & Red Quinoa. When I can find it, I use their organic quinoa. These handy little cups make meal prep incredibly simple — just microwave one cup for a minute, or two cups for 90 seconds. For this recipe, use both cups.
Another common option is instant quinoa and brown rice mixes (like those from Seeds of Change), which would also work well in this recipe.
If you prefer not to use instant, here are the cooking instructions for quinoa:
Bring 2 cups water or vegetable broth to a boil in a medium pot. Stir in 1 cup quinoa.

Cover and simmer over low heat for 20-25 minutes, or until liquid is absorbed.

Remove from heat and let stand, covered, for 5 minutes. Fluff with fork.

This will make about 3 cups of cooked quinoa, so you'll have leftovers after you prepare this recipe.
Tip #2: Try Stir-In Basil Paste 
I like to use basil stir-in paste in the colder months, when our own garden is asleep and fresh basil in the stores is expensive.
If you can't find basil paste in your store, you can simply substitute chopped fresh basil and olive oil.
Assembling the Dish
Once you have your ingredients ready, the dish comes together very quickly and easily. Prepare the quinoa, and keep it covered so it stays warm while you heat the other ingredients. 
In a skillet, heat the oil until fragrant, then add garlic and cook until lightly browned. Add the grape (or cherry) tomatoes, then stir in basil paste and pepper and sea salt to taste. Cook for about 5 minutes.
Combine all your ingredients, and enjoy!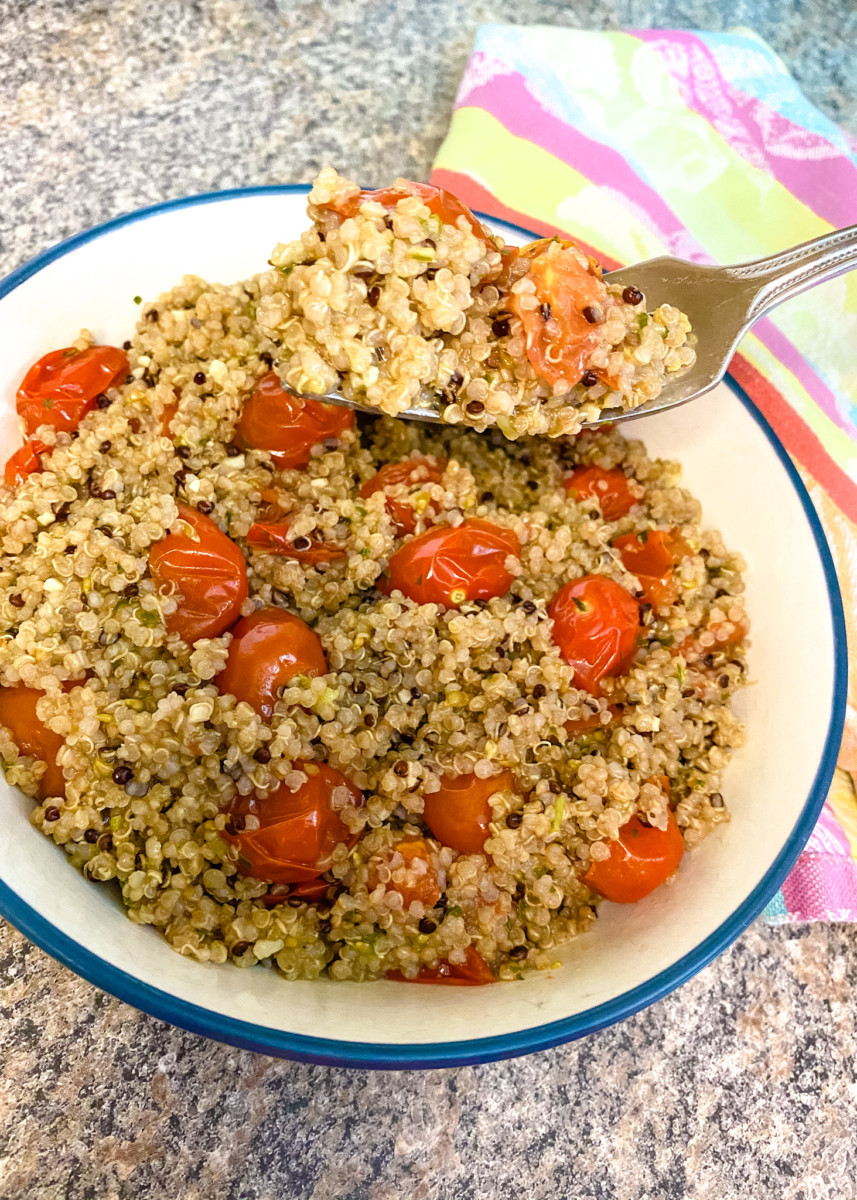 Pin this image so you can make this recipe later: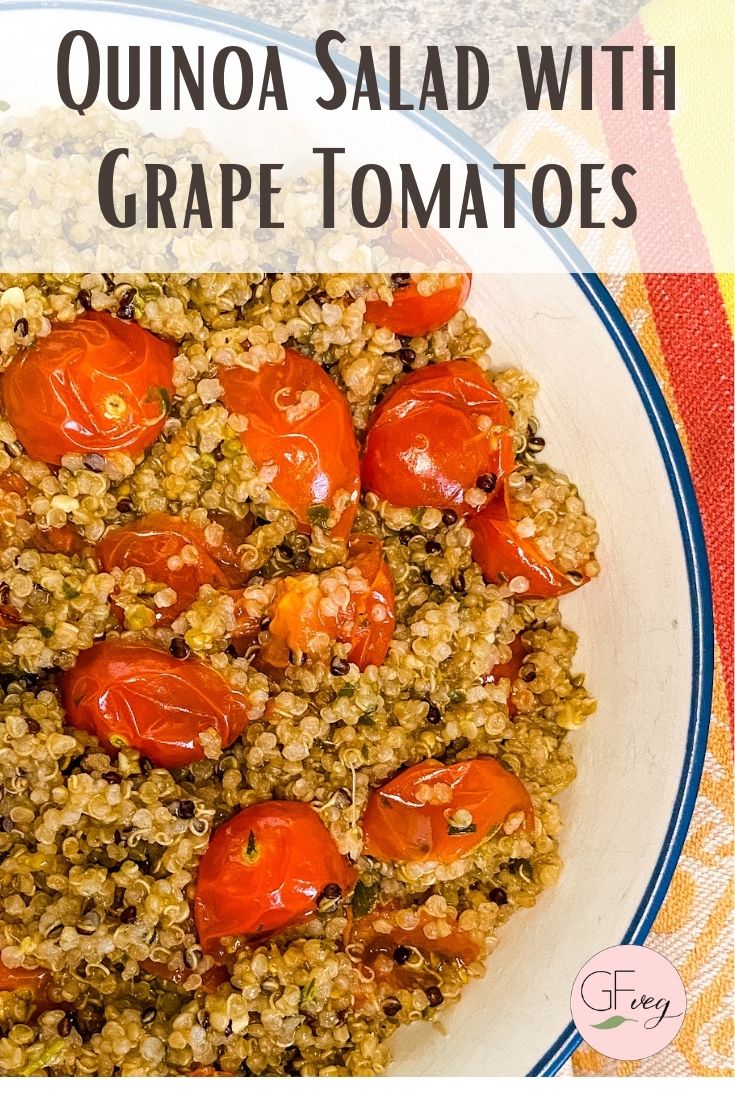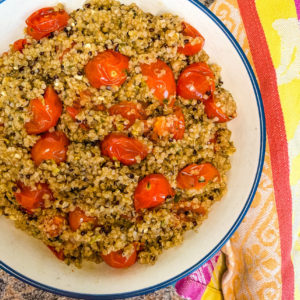 Quinoa with Grape Tomatoes
Ingredients
8.8

oz

package White & Red Ready-Made Quinoa

such as Minute Ready to Serve White & Red Quinoa (or 1.5 cups prepared quinoa)

1

tsp

olive oil

1

clove

garlic

minced

2

cups

grape tomatoes

halved

2

Tbsp

basil paste

or 2 Tbsp chopped fresh basil and 1 Tbsp olive oil

Ground pepper and sea salt to taste
Instructions
Prepare quinoa according to package directions.

Heat olive oil in a skillet over medium heat until fragrant.

Add garlic and heat, stirring frequently, until lightly browned, about one minute.

Add grape tomatoes, stir in basil paste, and add pepper and sea salt. Cook for 5 minutes.

Stir into quinoa and serve.

Enjoy!