Beyond Burger with Quinoa Salad and Hummus
The Beyond Burger is in Grocery Stores – And It's Totally Worth the Hype
I am so excited that the Beyond Burger is now available in grocery stores! Of course, this recipe can be made with any veggie burger patty. My husband and I have been enjoying variations of this meal for years — long before the Beyond Burger ever hit restaurants, let alone grocery stores.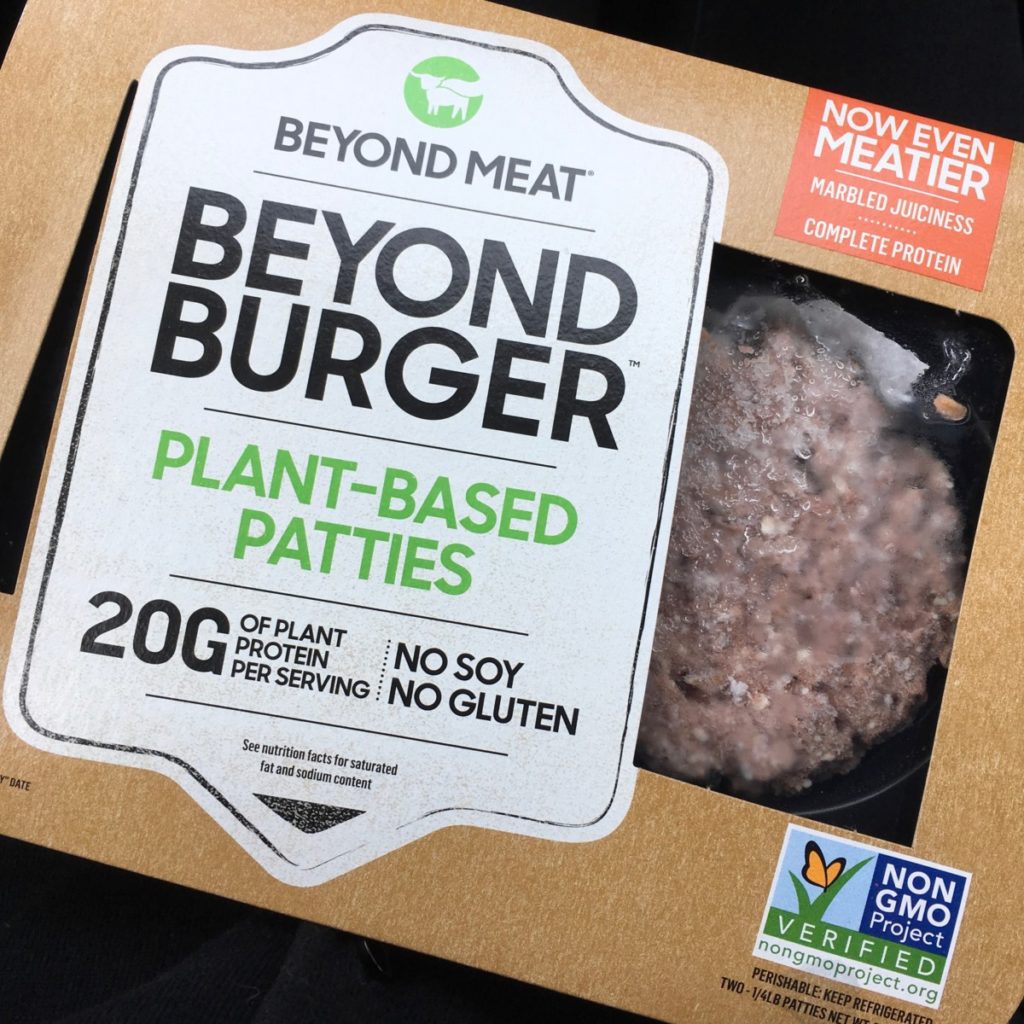 With that said, the night we made this with Beyond Burger for the first time, our whole meal got a major upgrade. I'm all about the Beyond Burger hype. Here are a few reasons:
It tastes amazing.

Having been vegetarian since 1992, I'd say I'm a bit of a veggie burger connoisseur. I've tried a vastly wide range of them over the decades, and I'm picky.

No veggie burger I've ever tried comes close to being as phenomenally delicious as the Beyond Burger

. Simple as that.  

It's gluten free (and soy free).

Once I discovered my gluten intolerance, my options for vegetarian meat substitutes were dramatically reduced. Of those that remained, many have been less than desirable. This one just knocks it out of the park and is better than any I've tried, gluten free or otherwise. It's also free of soy, which is fantastic for those with soy sensitivities and those trying to reduce inflammation.

It packs a protein punch.

One burger patty has 20 grams of protein, which is more than any other veggie burger in my search. At the same time, it's worth noting that this is not a low-fat product (full nutritional information is below). When you're cooking with Beyond Burger, account for this fact in the rest of your meal plan. 

It has a great story and mission behind its creation.

The Beyond Meat founder and company are making these products in order to improve people's health, reduce impacts on climate change, address global resource constraints, and improve animal welfare. Those are worthy endeavors to support!
Cooking Your Beyond Burger
You can either grill or skillet cook your Beyond Burger. There are no microwaving instructions. To cook, preheat the grill or skillet on medium-high. Although the package instructions don't specify this, we found it critical to use cooking oil. Olive oil is a healthy choice here.
Cook the patties for about 4 minutes per side. For us, this created a well done patty, so we could probably cook for less time with good results. The edges and inside of the patty will still be pink even when it's completely cooked.
Making the Quinoa Salad
For a delicious and easy quinoa salad, I like to use Minute Ready to Serve White & Red Quinoa. When I can find it, I use their organic quinoa. These handy little cups make meal prep incredibly simple — just microwave one cup for a minute, or two cups for 90 seconds. For this recipe, use both cups.
Toss the quinoa with 2 Tbsp olive oil, 1 chopped Roma tomato, half a chopped cucumber, and ¼ cup chopped fresh basil. You could also add lemon juice for a nice touch of added flavor.
Serve the Beyond Burger with approximately 1 cup of quinoa salad and 2 ounces (4 Tbsp) of hummus. I particularly like Cedar's Lemon Hommus with this meal.
Pin this image to save the recipe for later:
Other Recipes with Beyond Meat
After you try this recipe, no doubt you'll want to keep cooking with more Beyond Meat products! Try these recipes as well:
Beyond Burger with Quinoa Salad and Hummus
Ingredients
2

packages

Beyond Burger Plant-Based Patties

(or other veggie burgers, package of 4 patties)

1

Tbsp

olive oil for frying

or cooking spray

8.8 oz

package

White & red ready-made quinoa

(such as Minute Ready to Serve White & Red Quinoa)

1

Roma tomato

chopped

½

cucumber

chopped

¼

cup

fresh basil

chopped

2

Tbsp

olive oil

8

oz

Hummus

(such as Cedar's Lemon Hommus)
Instructions
Heat the veggie burgers according to package directions. If using Beyond Burger, first thaw patties in the fridge for at least 4 hours (but no longer than 3 days). Heat oiled skillet or grill over medium-high heat. Cook patties for a maximum of 4 minutes per side until internal temperature reaches 165 degrees. The edges and inside of the patties will still be pink when fully cooked.

Cook the quinoa according to package directions. If using Minute Ready to Serve White & Red Quinoa, heat both cups in microwave for 90 seconds.

Toss the quinoa with olive oil and chopped tomato, cucumber, and basil.

Serve burger patties with quinoa salad (approximately 1 cup per serving) and hummus (2 oz or 4 Tbsp per serving).

Enjoy!
Beyond Burger Nutrition Facts:
Full Meal Nutrition Facts: