Sweet Corn & Pineapple Stir Fry
Not-So-Traditional Sweet Corn & Pineapple Stir Fry
This delicious Sweet Corn & Pineapple Stir Fry has ingredients that you may expect in a Thai dish – for the most part. However, there's one fun Vermont twist here: sweet corn! 
Ingredients for your stir fry
As I was preparing this dish, my husband (the true Vermonter in the family) came up with the idea to add corn. I debated with him, but thank goodness he won me over. As unconventional as it may be in a stir fry, the sweet corn flavor is perfect with pineapple, ginger, and coconut milk. Who would have guessed?
If you don't have fresh corn on hand or it's not in season, frozen or canned corn (drained and rinsed) will work just fine. Regardless of the type of corn you use, you'll need 1 cup.
The remaining ingredients in this meal are a bit more traditional, but I've chosen some of our absolute favorites to include in stir fry. In particular, the combination of pineapple, coconut milk, and cashews is a decadent one that makes my mouth water just thinking about it!
All this combines perfectly with broccoli, onion, carrots, ginger, and of course curry to make a fantastic dinner.
The most nutritious rice to choose
You'll need two cups of rice for this dish. Nutritionally, whole grain brown rice is your best option, since nutrients and antioxidants remain in brown rice that have been stripped from white rice. Just a few of the beneficial nutrients in brown rice include manganese, folate, iron, and fiber.
In terms of convenience, my favorite way to prepare rice is using Uncle Ben's Whole Grain Brown Ready Rice. It requires simply 90 seconds in the microwave, and you're done! Those with gluten sensitivities should be aware that while the brown rice is gluten free, some of the other options in the Ready Rice product line do have wheat in the seasonings. It's important to check the ingredients as always.
You can make this meal in a single large pot, making preparation and clean up convenient.
The way that we thoroughly enjoyed this meal reminds me to keep experimenting, or just let my husband throw "crazy" things in my recipes! I hope you enjoy this also.
For another great vegan stir fry recipe, try Swiss Chard and Tofu Stir Fry. This delicious recipe is light and filling at the same time. Aside from the fantastic nutritional value of the swiss chard, the best thing about this dish is the flavor from the almond butter and sesame oil sauce.
Pin this image to save the recipe for later: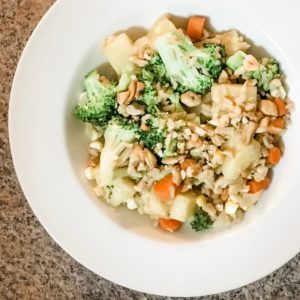 Pineapple & Sweet Corn Stir Fry
Ingredients
1

Tbsp

olive oil

½

onion

diced

3

cups

broccoli florets

18 - 20

baby carrots

sliced

20

oz

can pineapple chunks

drained

1

cup

corn

use approximately 1 - 2 ears of fresh sweet corn; or use frozen corn or canned whole kernel corn, drained and rinsed

2

cups

prepared whole grain brown rice

I recommend 1 package Uncle Ben's Whole Grain Brown Ready Rice

1

cup

light coconut milk

2

Tbsp

Bragg Liquid Aminos

or gluten free soy sauce

1

tsp

curry powder

2.5

tsp

fresh grated ginger

⅛

cup

chopped cashews
Instructions
In a large saucepan, heat the oil over medium heat. Cook the onion for about 5 minutes.

Add the broccoli and carrots and cook for 5 minutes.

Add the pineapple and sweet corn and cook for about 2 minutes. Meanwhile, heat the Uncle Ben's Whole Grain Brown Ready Rice in the microwave for 90 seconds according to package instructions.

Stir in the rice, coconut milk, Bragg Liquid Aminos, curry powder, ginger, and cashews.

Enjoy!