Zucchini and Basil Frittata
Dairy Free, Delicious Frittata
Recently we had some good friends visiting from out of town. Whenever we have house guests staying with us, I enjoy having a new set of dietary needs, tastes, and preferences to accommodate in our meal plan. It encourages me to be creative and to step a bit outside our family's normal eating routine.
Our friends are ovo-vegetarians, meaning they do not eat meat or dairy, but they do eat eggs. A frittata using summer garden bounty seemed like a perfect solution for brunch. That said, frittatas are great for any meal of the day – breakfast, lunch, or dinner!
Frittata Ingredients
I used almond milk to make this dairy-free, but any type of milk would work well (dairy or plant-based). For fresh veggies, I used sweet onion, zucchini, and basil, but the ingredients in this recipe can easily be substituted with a world of endless options. A few others to consider include mushrooms, bell peppers, avocado, spinach, and cheeses.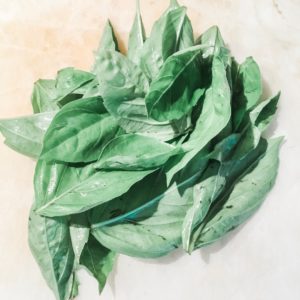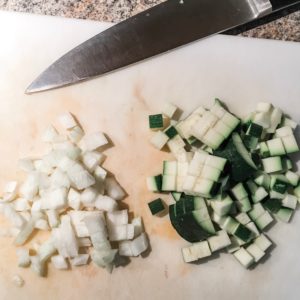 Preparing Your Frittata
After you have your veggies prepped, the process is simple. While your veggies start cooking in a skillet, whisk together your eggs, milk of choice, and salt and pepper to taste. Adding the almond milk to your eggs makes the frittata lighter and fluffier. Add the egg mixture to the skillet and let it cook for about 5 minutes. Then either pop the skillet into a preheated oven (if your skillet is oven proof!) or transfer the mixture to a baking pan before baking.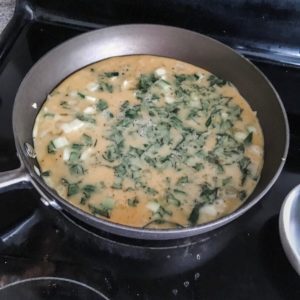 While the recipe is simple, the reward is great. With so many ingredient options, frittatas are versatile enough to satisfy almost any set of tastebuds. Let me know in the comments what ingredients you like to use in your frittatas! I would love to hear what creative ideas you have.
Pin this image to save for later!
Zucchini and Basil Frittata
Ingredients
1

Tbsp

olive oil

½

cup

diced sweet onion

1

cup

diced zucchini

8

eggs

½

cup

unsweetened almond milk

Salt and pepper to taste

¼

cup

fresh basil leaves

chopped
Instructions
Preheat oven to 350 degrees.

Heat olive oil in a medium skillet until fragrant. Use an oven proof skillet if you have one. If not, spray an 8"x8" baking dish with cooking spray.

Add onion to the skillet and cook, stirring occasionally, for 2 - 3 minutes.

Add zucchini to the skillet and cook, stirring occasionally, for 3 more minutes.

Meanwhile, whisk together eggs, almond milk, salt, and pepper.

Pour egg mixture into the skillet and cook until edges start to pull away from the pan, about 5 - 7 minutes.

If you're using an oven proof skillet, place it into the oven to bake. Otherwise, transfer the egg and vegetable mixture to the baking dish and put into the oven.

Bake at 350 degrees until set, 16 - 18 minutes.

Enjoy!