Super Simple Vegan Lasagna
Gluten Free, Vegan Lasagna with Tofu & Zucchini
This lasagna recipe is super simple, and you can make it with just five healthy ingredients. It comes together in a flash, so it works well for a weeknight dinner. And best of all, it's good for you! The ingredients make this dish gluten free, vegan, high protein, and nutritious. 
Ingredients for vegan lasagna
Gluten free no boil lasagna noodles
A fantastic time saver for your lasagna recipe is to choose "no boil" noodles. These let you skip the step of boiling the noodles before layering them into the lasagna dish. Here are some gluten free no boil noodle options:
Pasta made from protein sources, including vegetables or legumes. These include chickpeas, green or red lentils, or peas. Although they look like a traditional pasta, they cook differently and have a distinct texture and flavor. They're hearty and are more dense and chewy than you may be used to. Just remember – the nutritional content is well worth it! The pasta I used in this recipe is

Explore Cuisine Organic Green Lentil Lasagne

, which has 11 grams of protein per serving.

Pasta made from corn flour and rice flour. Although this pasta is gluten free, it closely resembles the more common white pasta with refined carbs. If you love and crave the taste of more traditional pasta, or if you're preparing a dish for a crowd, this can be a great option. If you have a soy sensitivity, be aware that some brands include soy flour. My family believes that

the best tasting pasta brand in this category is Barilla

. We think their gluten free pasta tastes just the same as refined carb pasta. 
For more information on gluten free pasta, download a FREE copy of GF Veg's eBook the Complete Guide to Healthy Pasta for recipes, meal inspiration, nutrition guidance, and cooking tips. Learn about 8 gluten free pastas and pasta swaps that will reduce inflammation, promote gut health, and support clean eating.
Extra Firm Tofu 
The tofu in this recipe makes a perfect substitute for ricotta. Make sure you select an extra firm variety. Drain the tofu and gently press it between a towel to get extra moisture out. If you like the texture of your tofu to be especially firm, you can use a tofu press, or read about additional steps on draining and baking tofu before using it in your recipe.
Nutritional Yeast
Adding nutritional yeast to the tofu helps give it a wonderful cheesy flavor. Also called "nooch," or savory yeast, nutritional yeast tastes nutty, creamy, and yes, even a little cheesy. It's an excellent source of protein, minerals, and B vitamins (including the coveted B12), supports the immune system, improves digestion, and even helps skin and hair health. 
In addition to pasta recipes like this one, you can also sprinkle it on top of salads or popcorn, or stir it into sauces or soups. For this recipe, crumble the tofu using a fork, then mix in nutritional yeast.
Zucchini (or Other Vegetables)
Zucchini provides both flavor and additional nutrients to this dish. It's extremely high in vitamin A, and also delivers vitamin C, potassium, magnesium, and folate in a low-calorie package.
If you have a spiralizer with a "ribbon" attachment, that would work well for layering the zucchini into the dish. Otherwise, simply cut the zucchini lengthwise into long strips.  
Other vegetables would work equally well in this lasagna, such as yellow summer squash or eggplant.
Marinara Sauce
When selecting a marinara sauce for this recipe, you'll want one that's flavorful, since the number of ingredients is minimized. Some good options would be sauces with garlic, basil, or other herbs and spices. 
Not all marinara sauces are created equal in terms of nutrition. If you can, take the time to compare labels and select a sauce that is relatively low in fat, sugar, and salt content. Different brands and flavors will vary greatly, but it can be fairly easy to find a flavorful one that has reasonable nutritional value. The one I chose for this recipe was Bertolli Burgundy Wine Marinara Pasta Sauce.
Layering the Lasagna
When you're ready to assemble the lasagna, lightly coat a baking dish with cooking spray. Layer sauce, noodles, zucchini strips, then half the tofu. Repeat the layers. Finally, top the lasagna with noodles, sauce, and a light sprinkling of nutritional yeast.
Cover the lasagna with foil to help keep the top layer of noodles soft. Finally, bake at 400 degrees for 40 – 45 minutes. Enjoy!
Pin this image to save the recipe: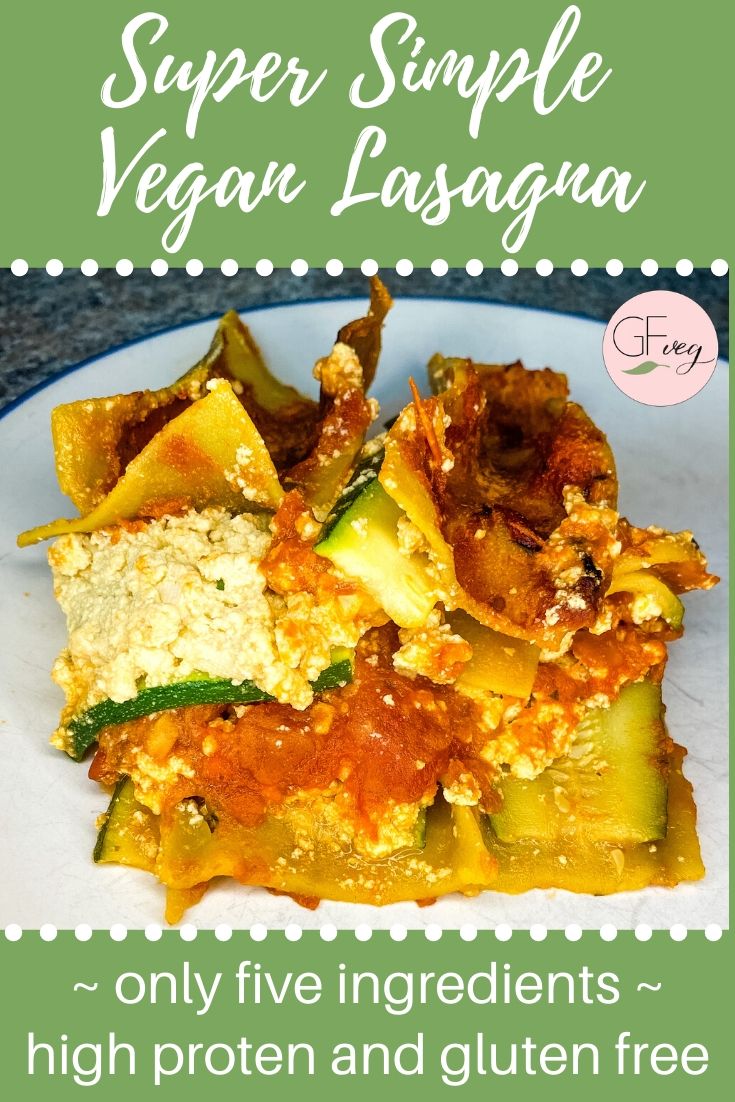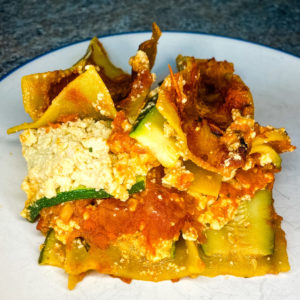 Super Simple Vegan Lasagna
Ingredients
1

24-oz jar

marinara sauce

1

8-oz pkg

gluten free no boil lasagna noodles

Zucchini

1 large or 2 small, cut lengthwise into thin slices

1

14-oz pkg

extra firm tofu

¼

cup

nutritional yeast
Instructions
Preheat the oven to 400 degrees.

Drain the tofu, wrap in a towel, and press gently to remove moisture. In a bowl, crumble the tofu with a fork and mix in the nutritional yeast, reserving a small amount to sprinkle on the top of the assembled lasagna.

Lightly coat an 8"x8" baking dish with cooking spray.

Spread a small amount of marinara sauce on the bottom of the dish. Top with a layer of lasagna noodles, then a layer of zucchini strips, and then half the tofu mixture. Repeat the layers.

Place one more layer of lasagna noodles on top and a light layer of marinara sauce. Sprinkle with the remaining nutritional yeast.

Cover and bake for 40 - 45 minutes.

Enjoy!