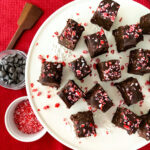 Print Recipe
Easy Candy Cane Fudge
This delicious, dairy-free Candy Cane Fudge is perfect for Christmas or any other special occasion. You'll love how easy and quick it is to whip up a batch of these fantastic fudge squares for a fun dessert or to give as gifts to family and friends.
Prepare the sweetened condensed coconut milk: Combine coconut milk and coconut sugar in a pot over the stove. Bring to a boil, then reduce heat to low. Simmer for 45 minutes, stirring every 5 minutes. The mixture will continue to thicken as it cools.

Combine milk and chocolate: Mix chocolate chips and vegan condensed sweetened milk in a microwave-safe bowl. Microwave for about 2 minutes, then stir until chocolate is melted.

Fold in the candy canes: To the melted fudge mixture, add half of the crushed candy canes and stir until evenly distributed.

Pour and set: Pour mixture into a 4"x4" food storage container lined with parchment paper. Sprinkle the remaining candy cane pieces on top. Refrigerate until set, about 1 hour. Cut into 18 pieces.