Roasted Vegetable Baked Penne
Healthier Baked Penne with Roasted Vegetables
I have memories of a baked ziti dish I used to make (back when I was many pounds heavier) that was basically a thick brick of cheese and pasta. It was a gooey, unhealthy mess! But since I was craving it, I set out to make a healthier version. The result is roasted vegetable baked penne – a delicious, gluten free, baked pasta dish full of nutritious veggies.
This dish features zucchini, mushrooms, diced onion, and peas, providing valuable nutrients and antioxidants to the meal. I also included some Parmesan and part-skim mozzarella for that cheesy flavor I was craving. However, by reducing the number and amount of cheeses, I trimmed at least 228 calories per serving and 8 grams of fat per serving compared to my old recipe. With a meal this hearty and satisfying, you won't miss the extra cheese at all!
This is inspired by a recipe from Giada de Laurentiis.
How to choose gluten free pasta for baked penne
At first, venturing into the world of gluten free pasta can be a bit intimidating. Here are some tips to keep in mind when making the switch.
Would you like your gluten free pasta to taste the same as traditional pasta? In my family's opinion,

Barilla's gluten free pastas

taste exactly the same as traditional pastas. This makes them a great option when making a meal to share with others, which we did in this case.

Is nutrition your primary consideration for your pasta? If you'd like to boost the protein content of your meal, consider using a pasta made from legumes, such as

lentils

,

chickpeas

, or

mung beans

. While these have different textures and flavors than you may be used to in a traditional pasta, they'll add more nutrients to your plate.
Regardless of which gluten free pasta option you choose, be sure to use plenty of salt in your cooking water. Also, once you've drained your pasta after cooking it, quickly move onto the next step in the recipe. Otherwise, gluten free pasta can quickly clump after draining.
To learn more about gluten free pasta options, download a FREE copy of GF Veg's eBook the Complete Guide to Healthy Pasta for recipes, meal inspiration, nutrition guidance, and cooking tips. Learn about 8 gluten free pastas and pasta swaps that will reduce inflammation, promote gut health, and support clean eating.


How to prepare healthy vegetable baked penne
This is a fun and simple dish to make. The first step is to roast your vegetables in the oven. I used mushrooms, zucchini, and onion, but you could use a variety of vegetables here, depending on what's in season and what your family likes to eat. Some other great options would be yellow summer squash or bell peppers.
Before you roast your vegetables, toss them with herbs. I used oregano (which we harvested from our own garden), rosemary, and thyme. Again, you can be creative with what herbs you use. Other excellent substitutes could include Italian seasoning or basil.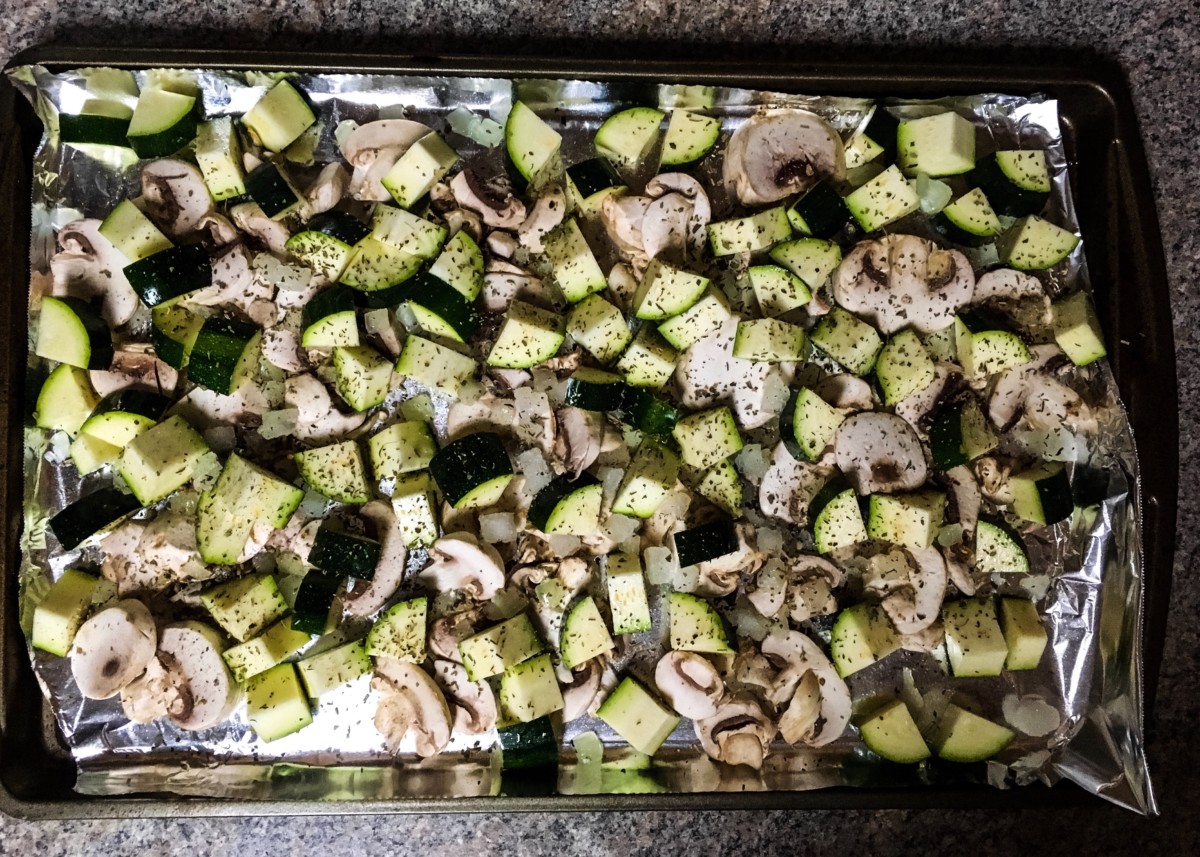 Boil your pasta while the vegetables are roasting. Don't fully cook the pasta, as the noodles will continue cooking during the last baking step. Estimate using about ⅔ of the pasta cooking time indicated on the box.
As you start assembling your ingredients, they will look good enough to eat even before the final product is put together!
Mix your pasta, peas, Parmesan and mozzarella cheeses, and marinara sauce.
Finally, add the roasted vegetables.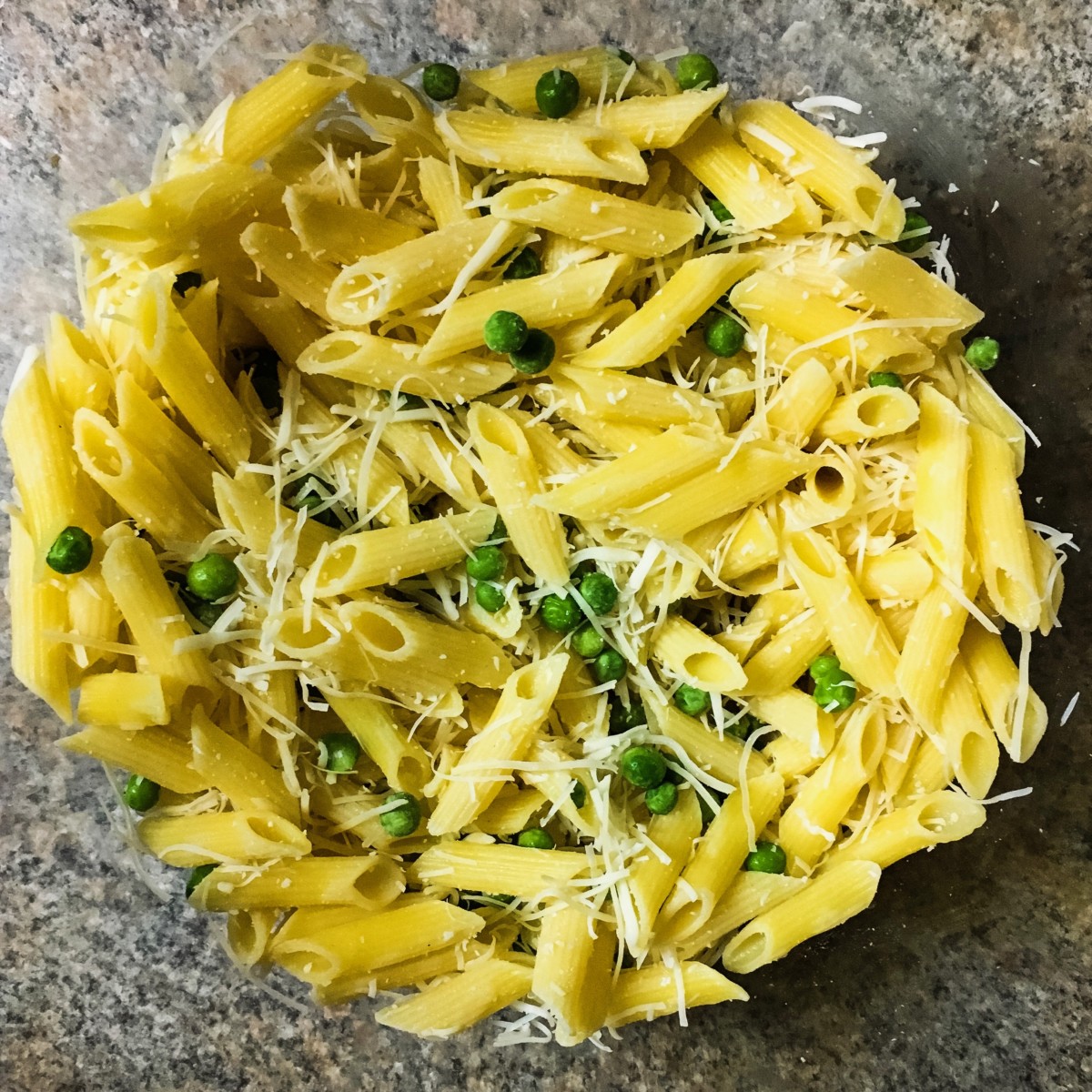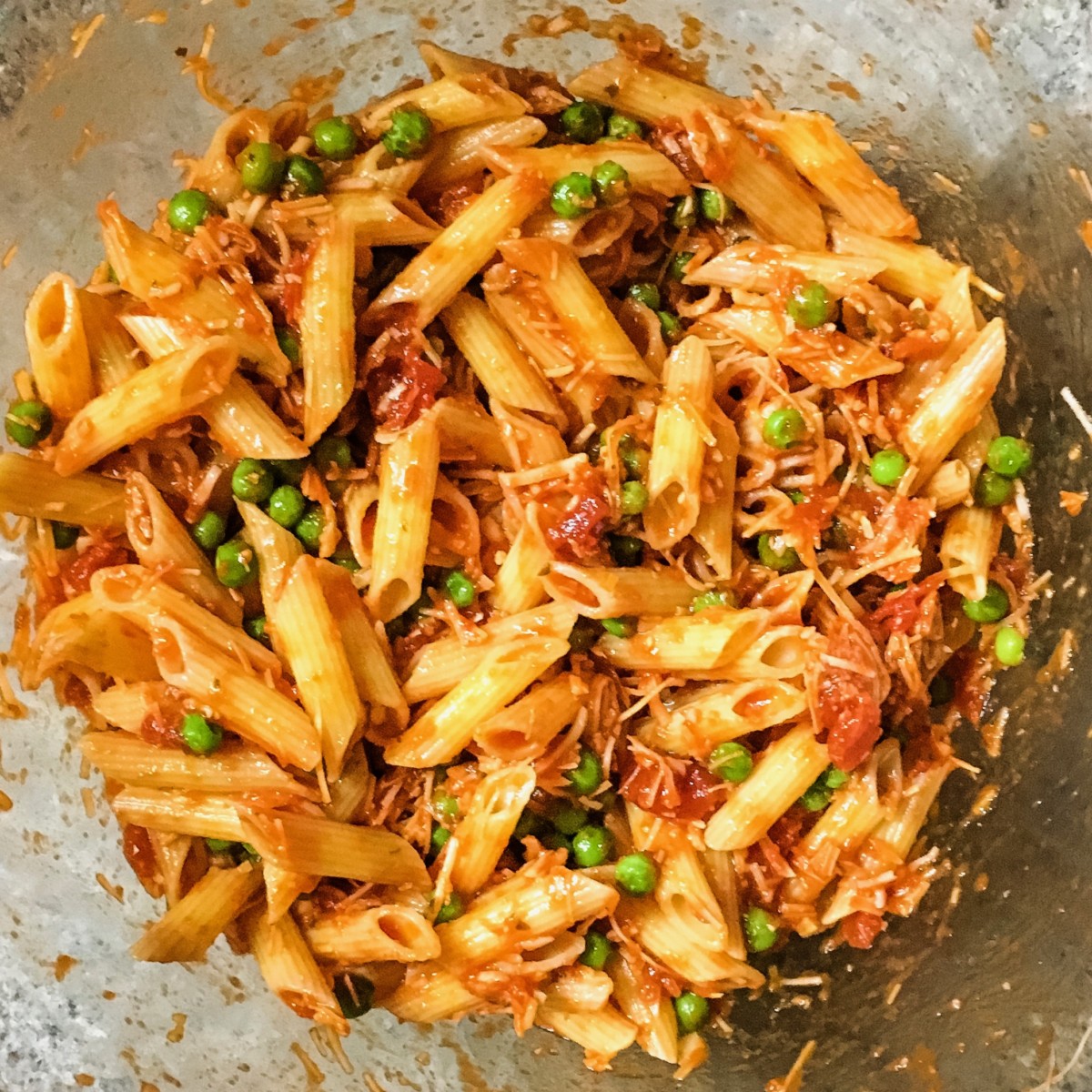 Once you've mixed all the ingredients together, spread the mixture evenly in a 9"x13" baking dish that's lightly coated with cooking spray.
Add the last ⅓ cup of Parmesan cheese on the top.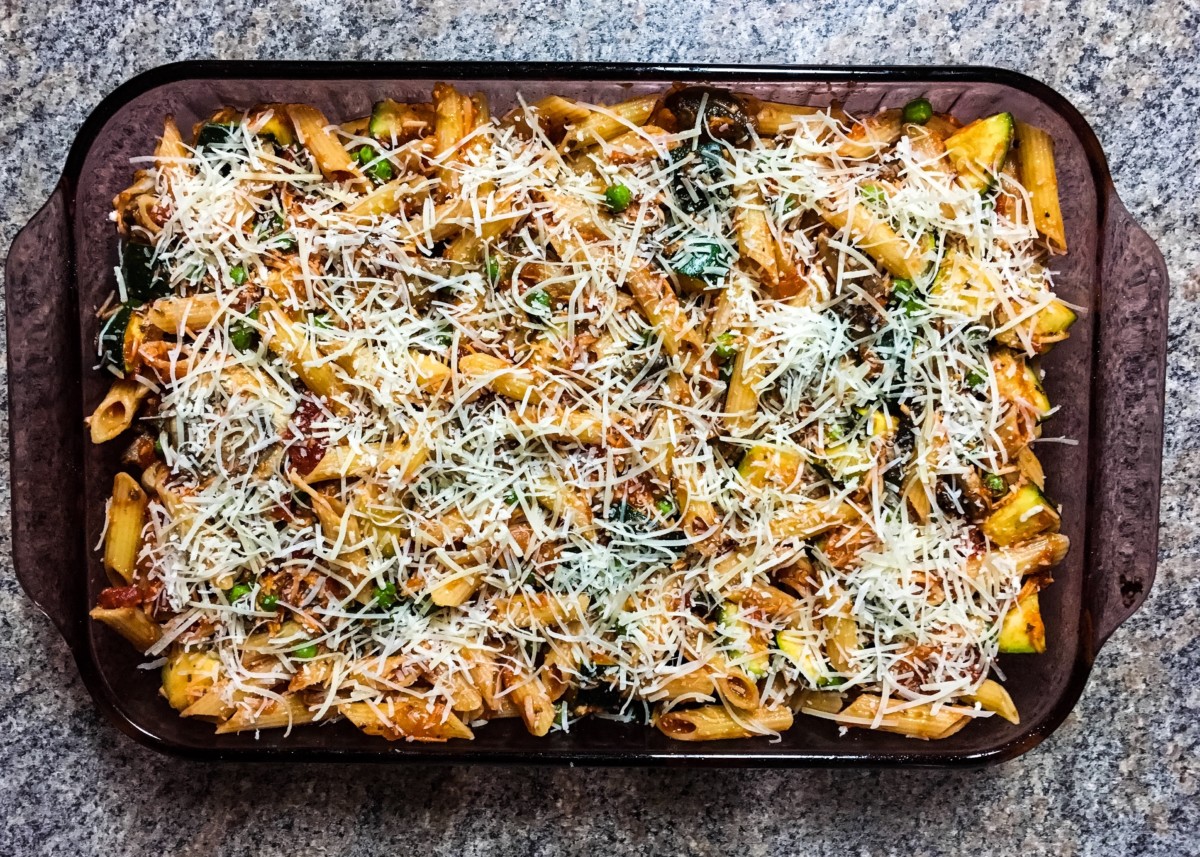 Bake at 400 degrees for 20 minutes. This dish works equally well for a weeknight dinner or for serving guests. It also freezes well. I hope you enjoy it!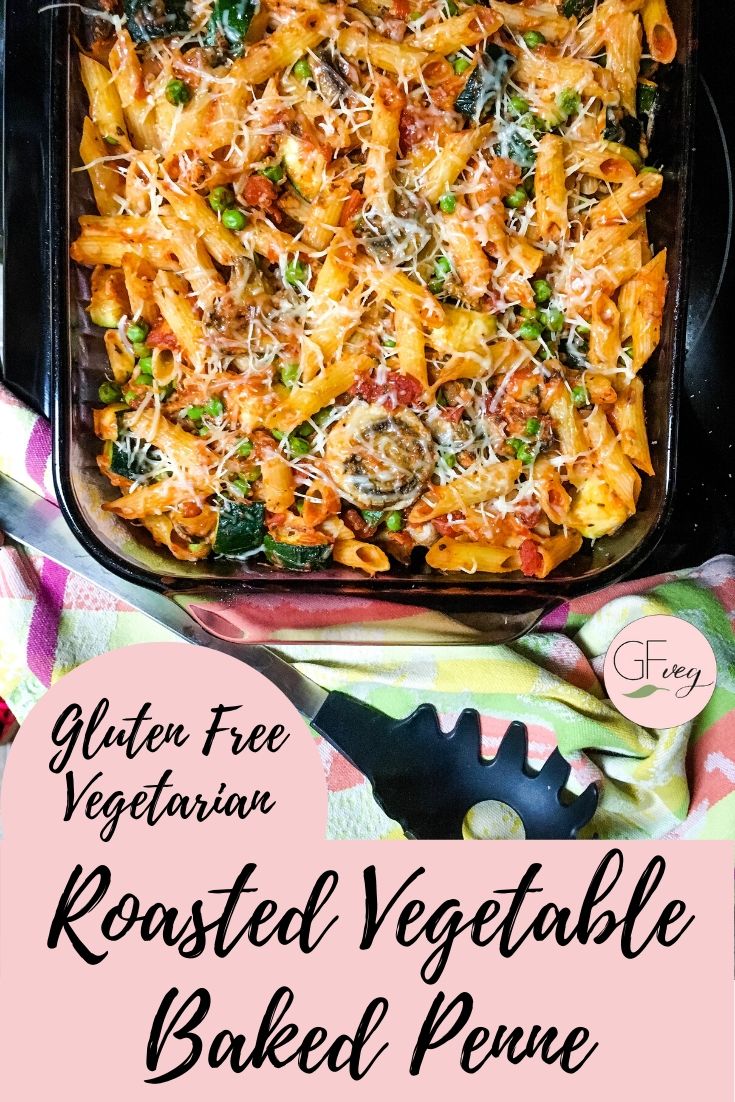 More pasta recipes to enjoy
If you liked this recipe, you might enjoy some of these other healthy pasta dishes as well: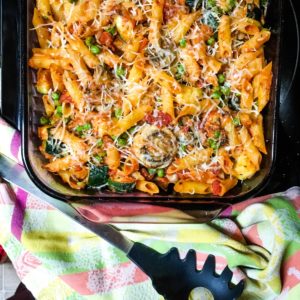 Roasted Vegetable Baked Penne
Ingredients
1

cup

sliced mushrooms

2

zucchini

cut into 1" cubes

1

onion

diced

½

Tbsp

dried oregano

½

tsp

dried rosemary

½

tsp

dried thyme

½

tsp

salt

¼

tsp

ground pepper

12

oz

gluten free penne pasta

2

cups

peas

frozen or fresh

1

jar

24 oz marinara sauce

1

cup

shredded Parmesan cheese

+ ⅓ cup for topping

½

cup

part-skim shredded mozzarella cheese
Instructions
Preheat oven to 450 degrees.

Line a baking sheet with parchment paper or spray with cooking spray. Toss the mushrooms, zucchini, and onion with oregano, rosemary, thyme, salt, and pepper.

Roast the vegetables in the oven for 15 minutes. After the vegetables are roasted, reduce the oven temperature to 400 degrees.

Meanwhile, cook the pasta for ⅔ of the time recommended on the box, around 6 minutes. (The pasta will finish cooking later in the oven.) Drain.

In a large bowl, combine the roasted vegetables, cooked and drained pasta, peas, marinara sauce, 1 cup of Parmesan, and mozzarella.

Coat a 9"x13" baking dish with cooking spray. Spread the vegetable and pasta mixture evenly into the dish. Top with the remaining ⅓ cup Parmesan.

Bake for 20 minutes or until heated through.

Enjoy!