Gluten Free Vegetarian in Montreal, Canada
Gluten Free Vegetarian & Vegan Restaurants in Montreal, Canada
My husband and I celebrated our eighth wedding anniversary in Montreal, Quebec in Canada. When we travel, a lot of our activity centers around food, and this was no exception. We found that Montreal eateries are very accommodating to gluten free and vegetarian/vegan diners.
While it's just a few hours by car from our Vermont town, crossing the border into Montreal's European atmosphere makes us feel like we ventured much farther away.
Here are the highlights from our trip, along with a list of options we'll try on our next visit.
Le Marquis Sans Gluten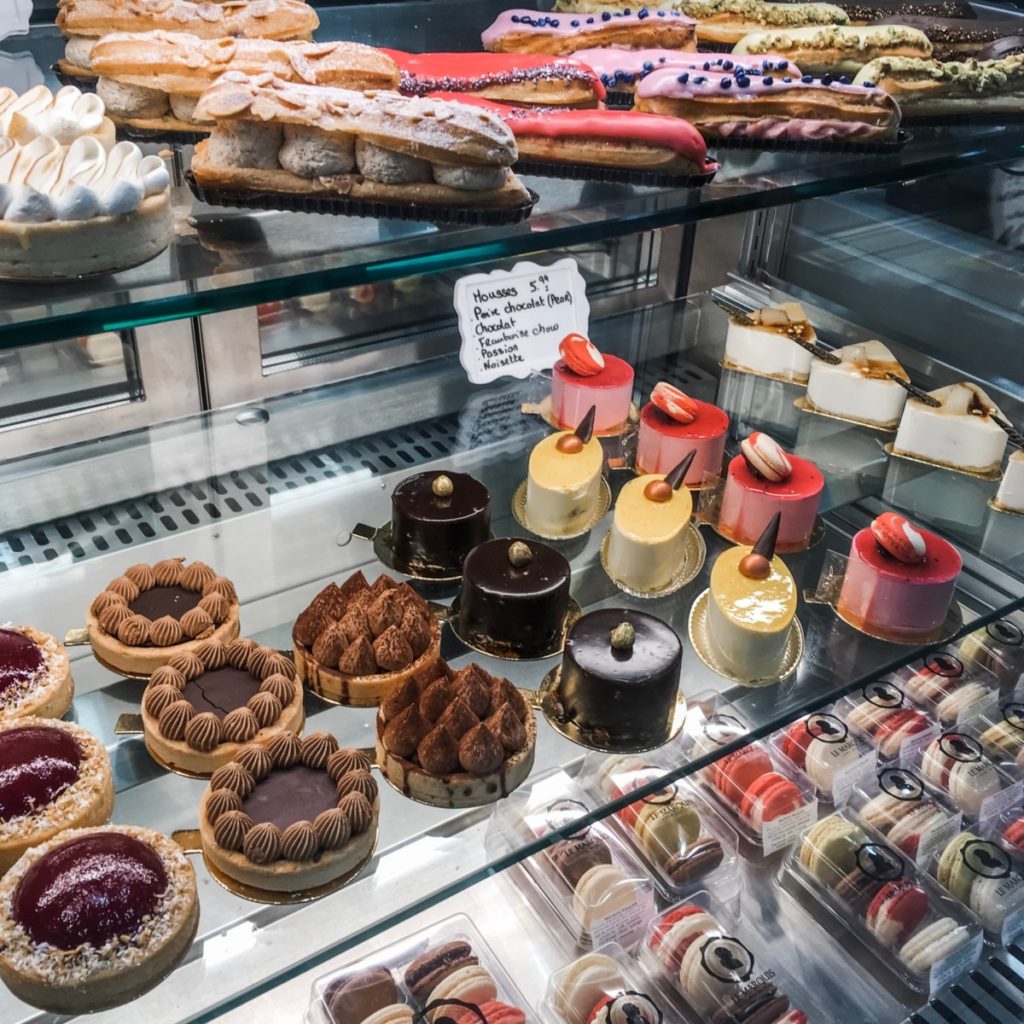 The first parking spot we found in Old Town Montreal just happened to be right across from the gluten free, dairy free bakery Boulangerie Le Marquis Sans Gluten. It was happy providence. We stocked up on their divinely gorgeous treats and enjoyed them throughout our trip. Everything we tried was outstanding.
Their croissants chocolatine were so light and buttery, they honestly left us wondering how they're either gluten free or dairy free. They also were filled with plenty of chocolate. It's a sad thing to order a chocolate croissant that has hardly any chocolate in it – but there was no risk of that here! 
Their mousse au chocolat and eclair au chocolat et orange were both creamy, decadent, and dense with chocolate. The eclair was the top favorite for both my husband and me.
The macarons français made it all the way back to Vermont with us, but not for long. Even a couple days later, they absolutely melted in our mouths. What a sweet souvenir to enjoy at home.
Lov Restaurant
Lov is a popular local chain of all-vegan restaurants where roughly half the menu is gluten free. We visited Montreal's McGill street location, where the first thing that draws you in is the gorgeous decor. The design features are as creative as their cuisine. For example, they have a seating area with oversized wicker swings, and a line of unisex restrooms with a communal handwash station. It all works to make a relatively small restaurant feel spacious, airy, and bright.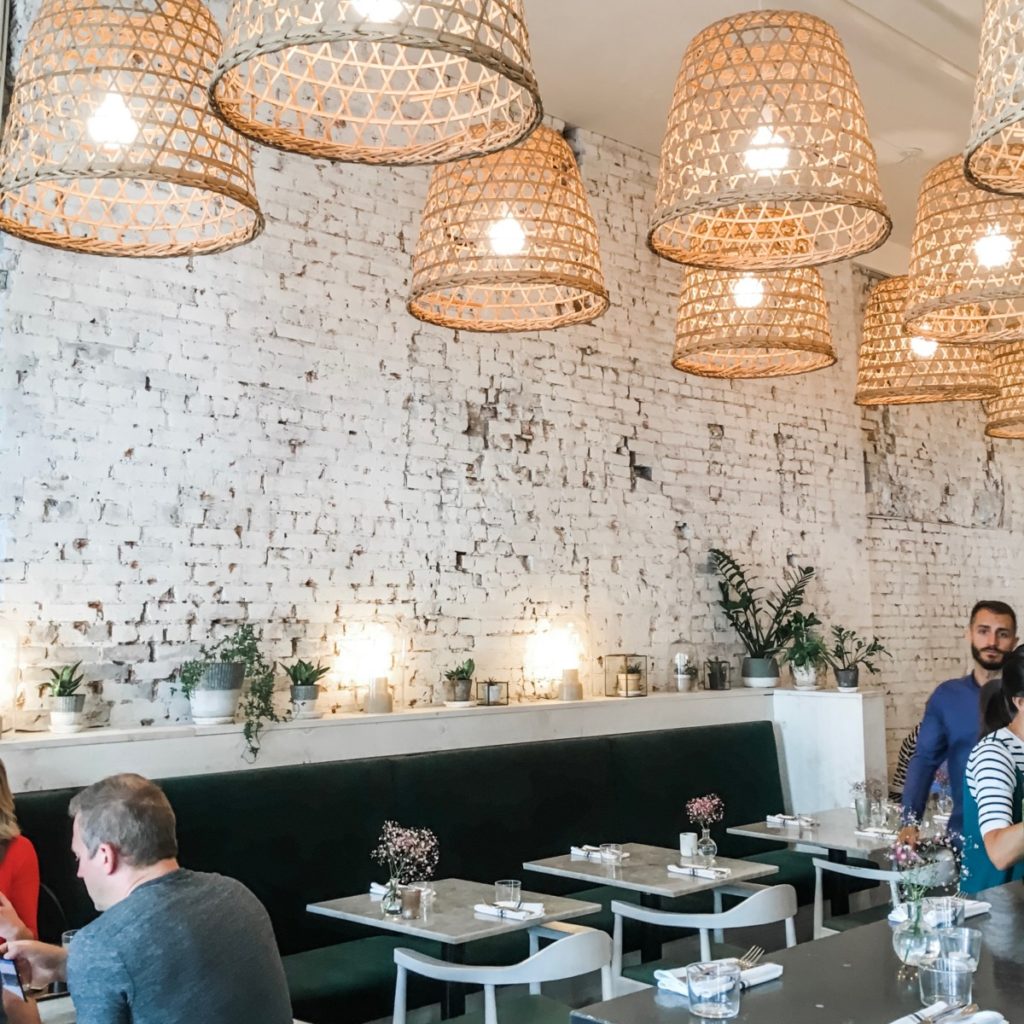 Once we were seated, the manager asked if we have any allergies. When I told him I have a gluten sensitivity, they placed a marker by my setting to ensure I didn't receive anything with possible contaminants. This offered immediate reassurance that I was well taken care of.
All gluten free items are denoted by a wheat free icon on the menu, making meal selection simple. My husband and I ordered one dish off the brunch menu and one off the lunch menu, and we split both to share. 
Our brunch menu item was apple pancakes with cashew chai cream, spiced apple sauce, the freshest berries imaginable, and maple syrup. The pancakes had a crepe-like consistency, and possibly their greatest feature was the cashew chai cream (this had a whipped butter consistency, but with even better flavor).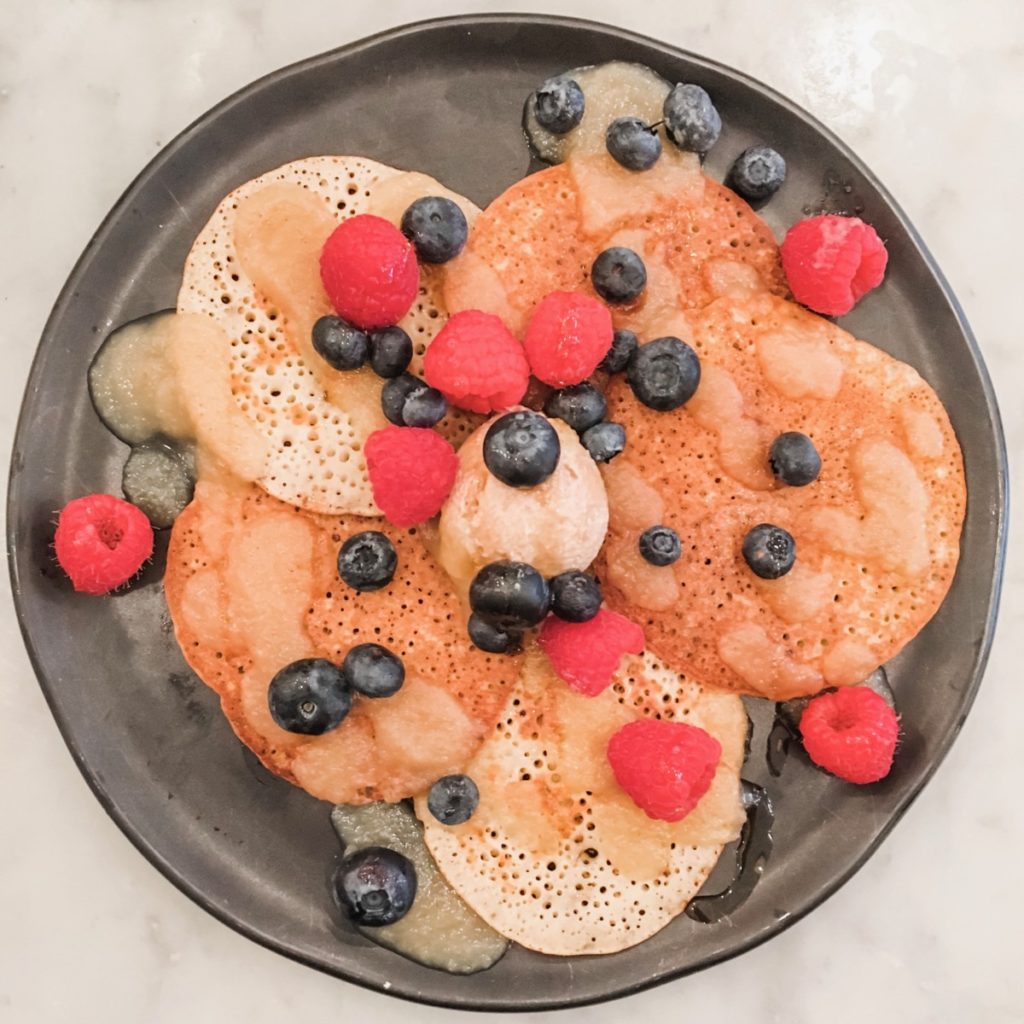 Our lunch entree was buckwheat sweet potato gnocchi with hemp basil pesto, arugula, and almond Parmesan. I hadn't had gnocchi since discovering my gluten sensitivity, so I was thrilled to have it again. My husband kept raving about this dish long after our meal. The vegan Parmesan was notable, as it was indistinguishable from its dairy counterpart.
We shared a glass of wine – a sauvignon blanc that was actually their least expensive option, but surprised us with how delicious it was. It was floral with a clean finish, and it made me curious about their other wine offerings. We also had exquisite (I'm not exaggerating) iced tea with floral notes and sweetened with maple syrup.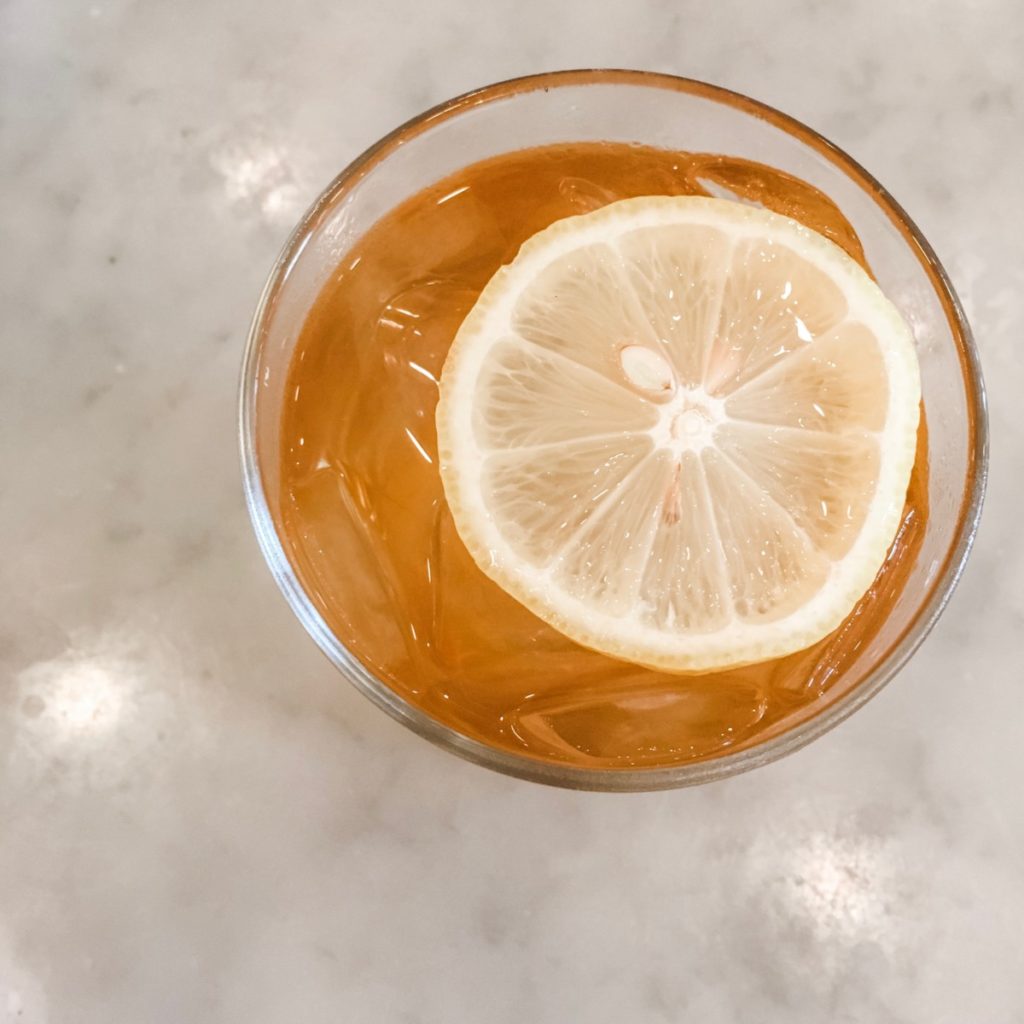 Leaving the restaurant, I felt not only satiated, but also like I just had truly healthful, clean, nourishing food. Lov Restaurant's beautiful, creative dishes pretty much made the whole trip to Montreal worth our time.
Reservations are required and can be made online.


Spanel Crepes & Gourmets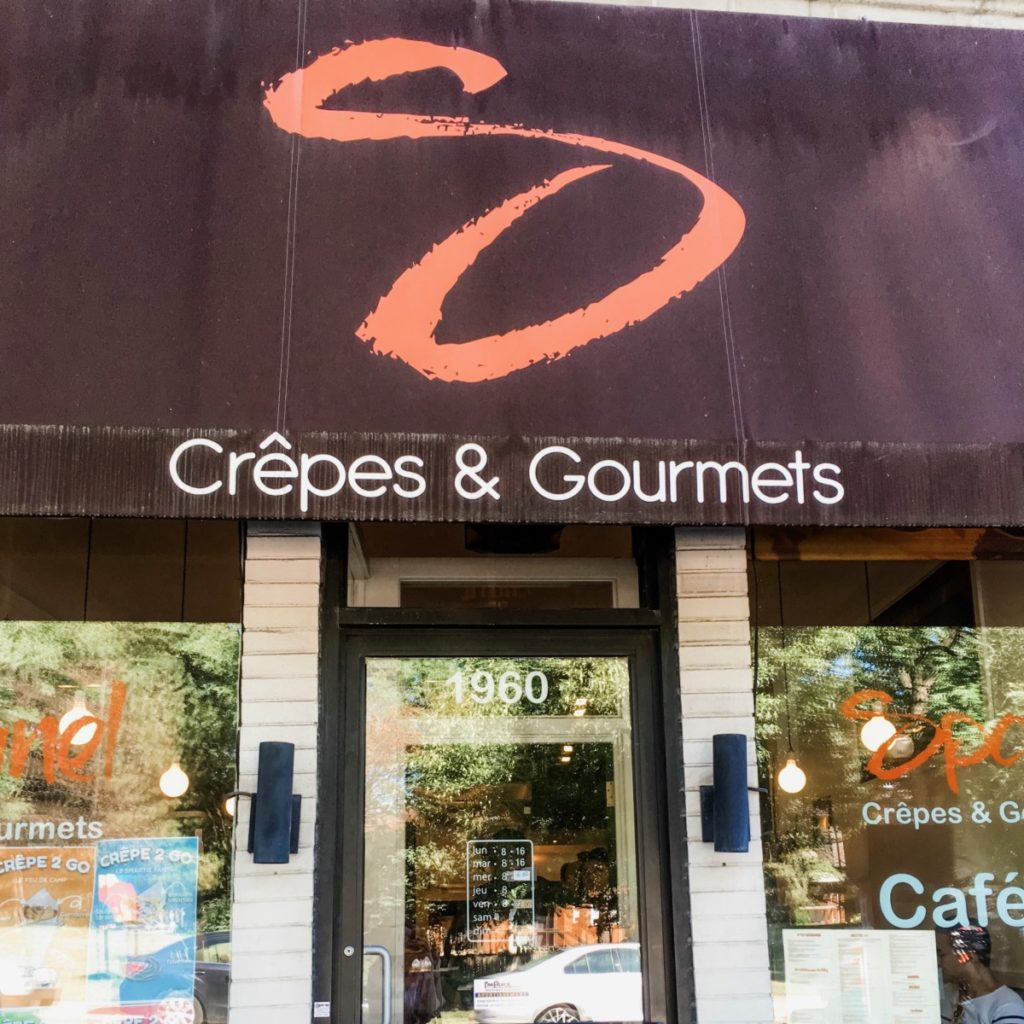 The perfect Sunday brunch location was Spanel Crepes & Gourmets in Griffintown, which offers an entire menu of gluten free crepes. The restaurant is popular, so reservations are recommended. We preferred their outdoor seating due to the heavy crowds and noise level inside. Their covered patio is lovely, and fortunately the weather cooperated with us during our time eating there.
My husband ordered the L'ile Des Soeurs crepe, with scrambled eggs, avocado, spinach, aged cheddar and salsa. I enjoyed the Mile End crepe, with scrambled eggs, sauteed mushrooms, aged cheddar, and spinach. Both were fantastic and disappeared quickly off our plates. 
We also shared a refreshing drink from their smoothie bar, which had banana, matcha, coconut milk, and spinach.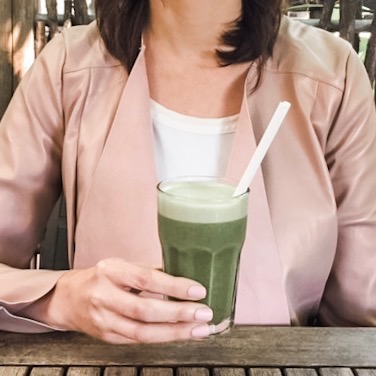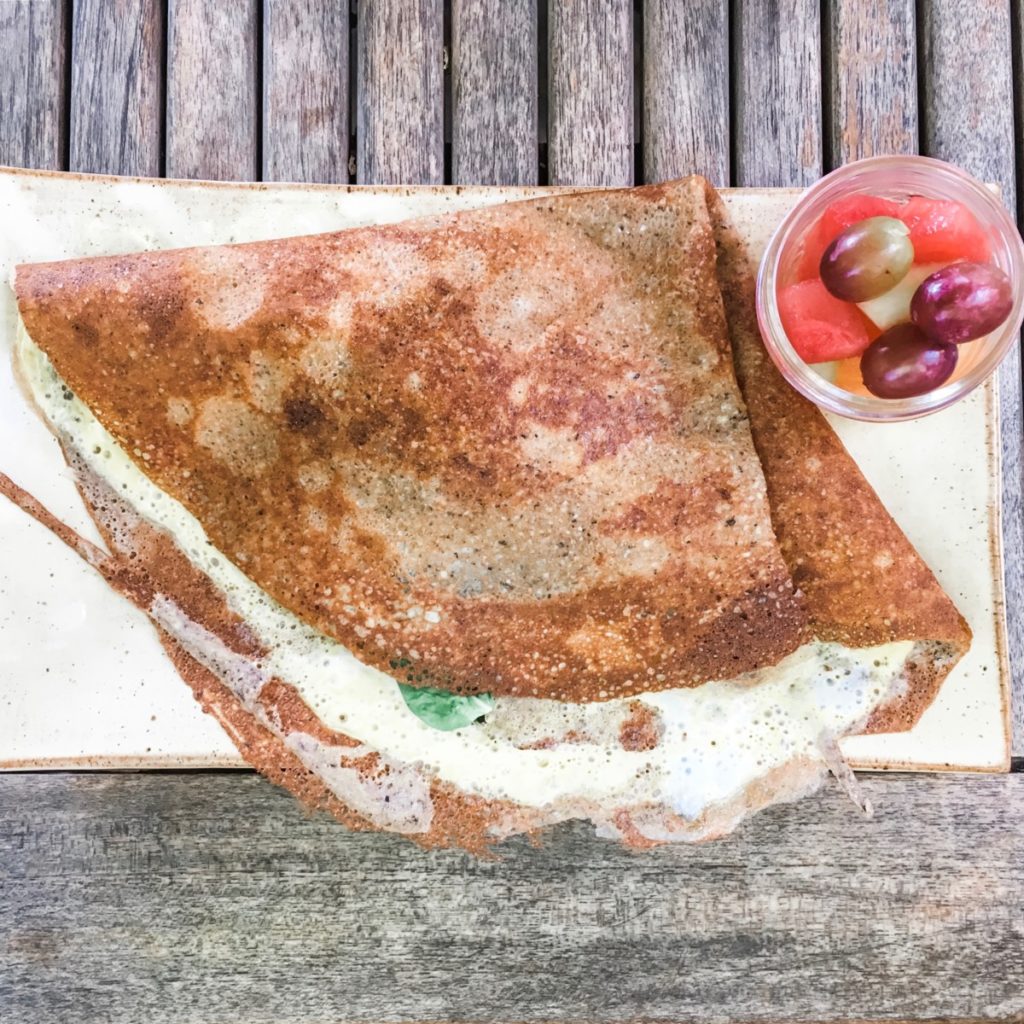 More gluten free vegetarian in Montreal
Although we didn't make it to these restaurants during our trip, here are additional options we learned about from others' recommendations:
If you've traveled to Montreal, please let me know your favorite places to eat! I would love to know about them.