Gluten Free (and Heavenly) Angel Food Cake
This heavenly angel food cake is a treat for you to fully enjoy and indulge in on special occasions! 
On a sweltering hot day in July, I dirtied every mixing bowl, mixing spoon, measuring spoon and more in my kitchen to make a mouth watering angel food cake with every ounce of the traditional flavor you'd expect. But there's one fabulous twist to this recipe: it's gluten free!
The master minds at Vermont company King Arthur Flour created a recipe for Gluten Free Angel Food Cake, and I tried to follow it as perfectly as I could. We dressed it up with whipped cream (of course), strawberries, and blueberries. The red, white, and blue combo made this the perfect dessert for celebrating the 4th of July!
I confess that I do not have advanced baking skills. I do love to bake and cook (and especially to eat), but I gravitate toward simple and quick recipes. This one felt like quite a departure from my norm. The recipe instructions said not to skip steps that "might seem excessive in this time-challenged era," so I didn't! I stuck to the steps and vowed to enjoy the process. 
While I won't repeat King Arthur's Gluten Free Angel Food Cake recipe since I followed it as precisely as I could, I'll share a few notes here on the process.
Gluten Free Flour
I found King Arthur's Gluten Free Flour in my local grocery store, and you can also order it online (you can get a coupon just for signing up for the company's email list). I used their Measure for Measure Flour.
Some years ago, my husband and I attended a cooking demonstration by King Arthur, where the chef taught us a tip I'll pass along. Before measuring your flour, use the handle of your mixing spoon to fluff the flour. This will make your measurements more accurate and create a less dense cake (or loaf of bread or whatever you're making). It also avoids wasting flour that you don't actually need to use in the recipe.

Other Batter Ingredients and Prep
The angel food cake recipe calls for Baker's Special Sugar or superfine sugar instead of regular granulated sugar. This impacts the cake's texture and the length of time required for the egg whites to reach their required volume. 
I couldn't find superfine sugar in my supermarket, so I followed another King Arthur tip and processed regular granulated sugar in a food processor until it was very finely ground. Doing this required using more sugar than the recipe called for, since the sugar was processed down to smaller granules. The food processor also created intriguing clouds of sugar "smoke"! 
The batter preparation process was intensive. Folding in the mixture of flour, cornstarch, and sugar ¼ cup at a time with the whisk attachment of a blender (as the recipe instructed) was truly an upper body workout, and it made me realize that frequent baking must have been one of the reasons my Gram was so trim. (She was an absolutely extraordinary baker and cook.) It seems this preparation method kept the egg whites foamy and made the batter overall incredibly light and airy.
Since the recipe calls for 1.5 cups of egg whites, you'll have about 10 or 11 egg yolks left over from the process. If you don't want those to go to waste, here are a few gluten free, veg ways to use the yolks:
The Final Heavenly Product
Ultimately, this lovely cake was worth the time investment. It may be just slightly denser than a traditional angel food cake (with gluten), but it's still beautifully light and has the texture and flavor you expect. On a special occasion, make this cake, enjoy the process, and enjoy having this treat with your family!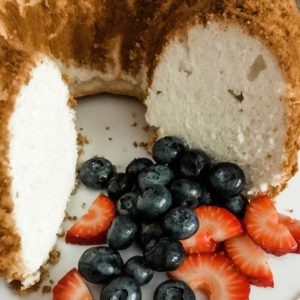 And, for your daily dose of cuteness, here's our daughter Isabel at the local fire station's 4th of July open house. Happy Independence Day!