Chocolate Protein Smoothie Bowl
Quick, simple, and healthy chocolate protein smoothie bowls
A protein smoothie bowl has become one of my favorite breakfasts. Not only are these bowls easy and quick to make, they're also delicious and filling, packed with nutritious ingredients, and beautiful too!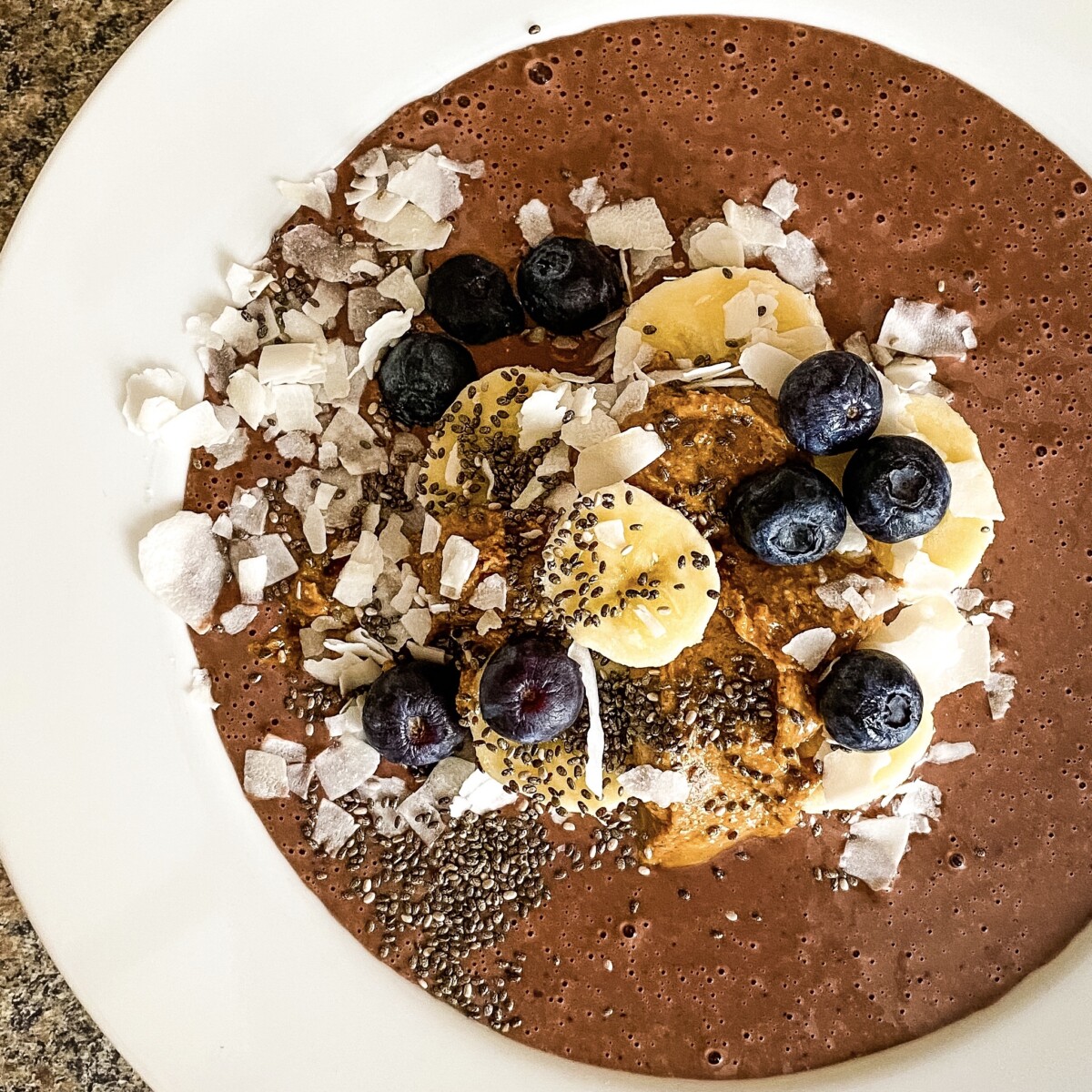 Protein smoothie bowl ingredients
This chocolate protein smoothie bowl is satisfying and delicious. Who doesn't love chocolate for breakfast? The best part is that it's filled with nutrients to help you start your day right or fuel your body after exercising. 
This recipe serves one person, but my guess is that you'll want to double it and make another bowl to share. Below is a list of the ingredients, along with some of their benefits.
Chocolate protein powder
As an essential macronutrient, protein helps you build and tone muscle, repair tissue, and manage hormones. Protein powder is an easy way to add protein to your diet. 
Protein powders come in a variety of flavors. My favorite flavor is almost always chocolate! My personal preference is to use a vegan variety, because it reduces bloating. The brand I used in this recipe is Raw Fusion. 
Pro tip: In addition to smoothie bowls, you can also use protein powders in frosty shakes or in snacks, such as granola bars and energy bites. 
A meal replacement shake would be an excellent substitute in this recipe. These are similar to protein powders, but they have other benefits such as vitamins, minerals, and probiotics. My family has tried many meal replacement shakes, and our favorite by far is Shakeology. Although it does cost more than other brands, we prefer it far and above others in terms of taste, texture, and giving us energy.
Vanilla Greek yogurt 
Greek yogurt provides nutrients including protein, probiotics, B12, potassium, and calcium. Including it in your diet helps you with muscle recovery after workouts, a slimmer waistline, and improved digestion and regularity. 
You can easily make this recipe vegan by substituting soy yogurt. Soy yogurt provides protein and healthy unsaturated fat. Also, soy can help lower cholesterol and decrease blood sugar levels. 
Mixed berries
In this recipe, you'll use berries twice. First, you'll use frozen berries in the blender with other ingredients. Later, you'll add fresh berries on top of your smoothie bowl. I chose mixed berries in the blender and blueberries for the topping.
Berries are loaded with antioxidants, which means that they prevent or slow damage to your cells. This includes protecting your skin from the damaging effects of the sun. Additionally, berries are anti-inflammatory and help lower cholesterol levels. There are so many benefits to eating berries, you can add them to your diet on a regular basis.
Banana
My family buys bananas every week! There are numerous health perks to this fruit. They're sources of vitamin C, manganese, and potassium. Bananas can aid digestion, give you energy, reduce inflammation, promote heart health, and help you feel full after your meal. 
Pro tip: if you're making a smoothie to drink out of a cup, adding half a banana to the blender gives your smoothie a thicker consistency and extra creamy texture.
Almond butter
Almond butter is a staple at my house, and my favorite is Barney Bare Butter with no added sugar or salt. Barney's website has a wealth of information about almond butter health benefits: it's a great source of vitamin E, magnesium, copper, vitamin B2 (riboflavin), and phosphorus. It is a great source of monounsaturated fat, protein, and fiber which are essential for heart health. Almond butter can help reduce your risk for heart disease and lower your LDL-cholesterol. 
Coconut flakes
Coconut meat, including flakes, contributes to heart health and aids digestion. It's a source of powerful antioxidants, manganese, copper, iron, and some B vitamins. The healthiest option for your protein smoothie bowl is to use unsweetened coconut flakes so you don't have the added sugar. 
Chia seeds
Chia seeds are a superfood, meaning that they are nutritionally dense. They're a rich source of protein, antioxidants, essential omega-3 fatty acids, iron, magnesium, calcium, potassium, and fiber. They are safely consumed whole and raw, so they're easy to add to food such as yogurt or muffin batter – or of course as a topping on your smoothie bowl.
Assembling your protein smoothie bowl
One of the great things about smoothie bowls is how simple they are to make. Here are the quick and easy steps for preparing this recipe:
Blend together protein powder, water, yogurt (Greek or soy), and frozen berries. Pour into a bowl.

Top with banana slices, almond butter, coconut flakes, fresh blueberries, and chia seeds.
That's all there is to it! Then you can kick back and enjoy a beautiful bowl of protein and goodness.
Pin this image to save the recipe for later:
Chocolate Protein Smoothie Bowl
Ingredients
1

scoop chocolate protein powder

½

cup

water

⅔

cup

vanilla reduced fat Greek yogurt

or soy yogurt

½

cup

frozen mixed berries

1

banana

sliced

2

Tbsp

almond butter

all natural

1

Tbsp

coconut flakes

⅛

cup

fresh blueberries

1

Tbsp

chia seeds
Instructions
Blend together protein powder, water, yogurt, and frozen berries. Pour into bowl.

Top with banana slices, almond butter, coconut flakes, fresh blueberries, and chia seeds.

Enjoy!